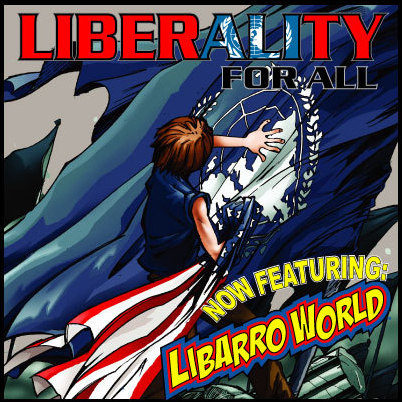 the world's first Conservative comic book
Lexington, KY (PRWEB) June 28, 2006
The publishers of "the world's first Conservative comic book" have created an all-new political satire called Libarro World that is featured in their latest issue of Liberality For All; which is on sale now.
Liberality for All #3 continues to tell the story of a Liberal-dominated dystopia where Ambassador Usama bin Laden is welcomed to New York City by the United Nations to apologize for the "misunderstanding" of 9/11. Never fear … the last hope for American Conservatism (bio-mechanically altered Sean Hannity, G. Gordon Liddy and Oliver North) has set out to thwart bin Laden's plans to nuke the city on the 20th anniversary of 9/11.
Libarro World: A Berkeley professor's flawed duplication ray has created imperfect copies of John Kerry, Hillary Clinton, Howard Dean and Ted Kennedy. Each pro-Bush duplicate (Lt. Kerry, a pro-military warrior; Miss Rodham, a sultry anti-feminist; Deaniac, an unexcitable ultra-genius; and Teddie, a lovable distinguished teetotaler) has a fatal Achilles heel caused by the flawed duplication process. The four democratic leaders then set out to exploit their weaknesses in order to destroy each of their Conservative doppelgangers.
Sample pages of both Liberality For All #3 and Libarro World are available for viewing on the website http://www.ACCstudios.com.
Liberality For All has become one of the most talked-about comic book series in recent years -- and arguably the most politically divisive ever. The full-color 32-page issue #3 (of 8 issues) is now available at comic book stores nationwide and directly from the publisher's website at http://www.ACCstudios.com.
Like the preceding issues, Issue #3 is available in two collectible cover variations: The "Final Drudge Report" edition, shows the last moments of the (in)famous Matt Drudge after a U.N.-assisted 'suicide;' while the "U.N. Flag" edition depicts the series' protagonist recoiling from the visage of the U.N. flag in a place of honor above the Stars & Stripes. Either cover has a SRP of $2.99.
Liberality For All and Libarro World are created and written by Mike Mackey, with art by Donny Lin and Aditia Wardhana, published by ACC Studios. Review copies are available upon demand to anyone in the media, and interview requests with the series' creator will be granted.
# # #