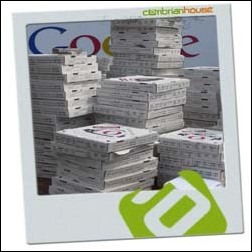 For us it was really a matter of just having fun and doing something a little different for the people at Google
Calgary, Canada (PRWEB) June 30, 2006
Cambrian House Inc. announces today that their unofficial holiday Google Day was a great success. Cambrian House inducting the global search giant into their newly created National Viking Association, which can be described as their hall of fame for the online community.
The day began with 3 Cambrian House team members and the entire Amici's Pizza delivery entourage rolling into the Googleplex in Mountain View, California with over 1000 pizzas. In an effort to surprise Google the pizzas were delivered unannounced and served in the heart of the Googleplex to all their employees. However the operation did not come without its flaws, as the team was eventually escorted off the premises after security had finished eating their pizzas.
"For us it was really a matter of just having fun and doing something a little different for the people at Google," says Michael Sikorsky, CEO of Cambrian House. "Our employees had a great time planning the entire event and from the sound of it, the Google staff loved the pizzas. Google day was a fun day for us and a great way to kick off our new online community and the National Viking Association."
The Cambrian House crowdsourcing website was launched Tuesday, with a mission of gathering like-minded individuals from all over the world to contribute ideas, code, graphics and other skills in an effort to commercialize software.
The community had signed up over 1500 members before the site was launched through their network of developers, and they are estimating over 10,000 new member sign ups and 1000 idea submissions after their first week.
Photos, videos, and blog updates on the Google Day events can be found at the Cambrian House website: http://www.cambrianhouse.com
About Cambrian House
Headquartered in Calgary, Canada - Cambrian House opened its doors on February 1, 2006. Using the internet to harness the wisdom and participation of crowds, Cambrian House seizes creative software ideas from the ether and builds them into real software. With the use of online market testing, Cambrian House then objectively determines if an idea should be built or be terminated.
If you require additional information or have any questions or concerns please contact:
Cambrian House
Michael J. Sikorsky, CEO
Tel: 403-263-2042
# # #