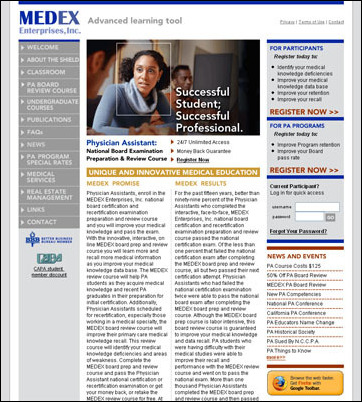 Carson City, NV (PRWEB) July 10, 2006
Since 1973, over 60,000 people have taken the Physician Assistant National Board Exams. The passage rate has ranged from 69% to 94% throughout the years the test has been administered. With such volatile passing rates, students preparing for the exam want to feel sure they will pass. MEDEX Enterprises is so confident in their preparation course that they offer a money back guarantee should a student fail their boards. To enhance their former face-to-face lecture format board review course, MEDEX Enterprises is announcing the grand opening of their online virtual classroom for Physician Assistant national board preparation.
MEDEX Enterprises has been helping physician assistant graduates and students with preparation for the national board exams since 1991. They have had a 99% success rate with those that have enrolled and completed the preparation course. The entire physician assistant board review course is now offered online. The MEDEX course is not just a series of exam questions. In addition to the virtual classroom, the physician assistant board review course utilizes expanded SOAP notes, which are condensed 1-page summaries of the most 100 common diseases that affect patients.
Along with the expanded SOAP note homework assignments, this board review course requires fill-in-the-blank, short answer quizzes in addition to a series of multiple choice question examinations. The quiz feedback involves a split screen with the expanded SOAP note and the quiz presented side-by-side for comparison along with a numerical score.
The exams test a student's knowledge in each of the ten organ systems. The feedback from the multiple choice examinations gives an overall score as well as a breakdown, showing how the student scored for each organ system. Based on these scores, students can see the systems they are excelling in and struggling with. The personalized study recommendations students receive are crucial to improving their performance. The MEDEX Enterprises Board Review Course can help second year students and recent graduates as well as first year students, to improve retention of medical information and graduates preparing for recertification.
Wendell Wharton is the course coordinator for MEDEX Enterprises PA National Board Preparation and Review Course. Wharton has over 27 years PA experience, with over 10 of those years in PA education. He served as PA program director for 6 years. Wharton also is a member of the American Academy of Physician Assistants, where he served in the House of Delegates for 20 years, five of those as an officer.
Students that successfully complete the MEDEX PA National Board Preparation and Review Course are guaranteed to pass their boards. Since its inception in 1991, only five students who completed the course failed their national boards. Overall, MEDEX Enterprises has a 99% success rate, and with the grand opening of their virtual classroom, it seems as though their numbers can only improve.
For more information on physician assistant programs to prepare for the boards, please visit medexenterprises.com.
About MEDEX Enterprises, Inc.:
MEDEX Enterprises, Inc. is an online interactive review course for physician assistants who are studying for their national board examination. They have improved on their traditional classroom setting by offering a virtual online course to support physician assistant students and graduates nationwide. MEDEX Enterprises is always looking to bring an innovative approach to learning, increasing and retaining medical knowledge.
###