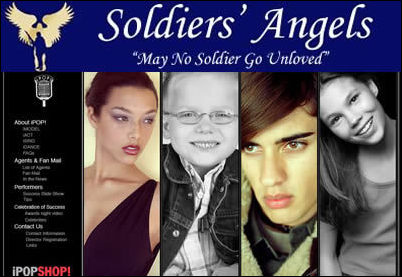 iPOP! wants the troops overseas to know that we care about them and are wishing them well. Soldiers' Angels is a wonderful organization and we are thrilled they are joining us at iPOP! this year.
Los Angeles, CA (PRWEB) July 1, 2006
iPOP! (International Presentation of Performers, at: http://www.ipopconvention.com) is pleased to announce that "Soldiers' Angels", (http://www.soldiersangels.org), will participate in the upcoming iPOP! NY 2006 acting, singing, dancing and modeling talent convention which will take place at the Marriott Marquis Hotel in New York City from July 3 – 6, 2006.
The Soldiers' Angels is a non-profit organization that provides care packages to American troops fighting the war in Iraq and over-seas. Each year, thousands of American soldiers receive loving packages of good will from Soldiers' Angels volunteers from all over the Unites States.
iPOP! has donated a booth space for Soldiers' Angels in iPOP!'s Teen Lounge Center at the Marriott Marquis Hotel. iPOP! participants who include young singers, actors, dancers and models from across the Unites States will have an opportunity to help contribute to Soldiers' Angels by buying care packages for the US troops or making Soldiers' Angeles charity donations. Packages can include food staples and toiletries to more exciting items such as popular cds, dvds and candy treats.
"We want our young iPOP! attendees to have a special connection to our servicemen who are risking their lives for us everyday in the war in Iraq," said iPOP! Executive Director, Joseph Beauchamp. "iPOP! wants the troops overseas to know that we care about them and are wishing them well. Soldiers' Angels is a wonderful organization and we are thrilled they are joining us at iPOP! this year."
Beauchamp announced in a statement that for every dollar that is collected for Soldiers Angels by the young performers iPOP! will match this amount and donate it directly to Soldiers' Angels.
The Soldiers' Angels was started by a self-described ordinary mother, Pattti Patton- Bader, whose son, Sgt. Brandon Varn served in Iraq. In the summer of 2003, Sgt.
Brandon Varn wrote home expressing his concern that some soldiers did not receive any mail or support from home. Being a caring and loving mother, Brandon's mother decided not to allow a situation like that to continue. She contacted a few friends and extended family to ask if they would write to a soldier or two.
Within a few short months, The Soldiers' Angels network went from a mother writing a few extra letters to an Internet Community with thousands of angels worldwide. Soldiers' Angels currently supports thousands of American Service Members stationed over-seas. Soldiers' Angels also works tirelessly supporting wounded soldiers with transitional backpacks, personal visits, phone calls, etc. Additionally, Soldiers' Angels sends thanks via letters and email to the military of Great Britain, Poland and Australia who serve by American soldier's sides in Iraq. Soldiers' Angels are dedicated to ensuring that American military know they are loved and supported during and after their deployment into harms way.
More than 1,200 children and teenagers are confirmed to attend iPOP! New York this July with an additional 800 parenting chaperones in tow. iPOP! participants will get an opportunity to sing, dance, act and model in front of the most respected entertainment industry types. 200 agents, managers, casting directors, record labels and other industry personnel will be attending. iPOP!, created with the innovation of successfully merging fashion and modeling with the music and entertainment industry, has become the largest and most well respected event for aspiring talent to attend.
Billed as a unique training program, iPOP! provides participants hours of one-on-one training with top professionals in all mediums of entertainment. iPOP!'s goal is to prepare aspiring performers to meet perspective agents, managers and casting directors. Last year's attendees successfully landed lucrative modeling assignments and performance bookings across the country. Participants also gained representation by the biggest agencies Hollywood and New York has to offer.
###