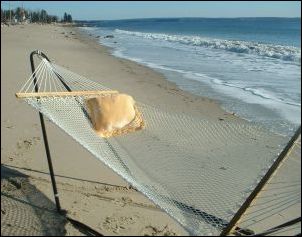 We're also very pleased to offer an excellent marketing opportunity to our valued affiliates.
Proctor, MN (PRWEB) July 5, 2006
SimplyHammocks, a company selling quality hammocks , hammock chairs and related relaxation products, is pleased to announce the launch of SimplyHammocks.com as well as its affiliate program. Details of the new program are available at http://www.Affiliates.SimplyHammocks.com.
The SimplyHammocks affiliate program offers affiliate Web site visitors discounts and special offers for hammocks, hammock chairs and other relaxation gear. Simply Hammocks sells hammock chairs and swings, stands, rugs and other accessories at no cost to the affiliate. The company pays affiliates 10 percent commission for every referred sale.
"We are very excited to launch SimplyHammocks.com and believe we have created a site where customers can find superior products at competitive prices," says Jonathan Thralow, Director of Marketing & Technology for Simply Hammocks. "We're also very pleased to offer an excellent marketing opportunity to our valued affiliates."
The affiliate program uses NetTraction™ software and offers many linking options targeting different demographics, plus special offers, including coupons and discounts featuring the best product information and incredible deals. The company is dedicated to providing affiliates with custom creatives, hybrid offers, point-of-sale options and much more.
Affiliates receive a monthly statement, including a summary of traffic, statistics and commissions earned. Commission checks of $50 or more are sent out monthly.
The affiliate program offers real-time traffic and sales statistics 24 hours a day. To ensure that affiliates are credited for every sale they refer, the program includes automatic cookie updating. The cookie tracks for 30 days and updates itself on each visit. This means that if a customer returns 30 days later the affiliate will still get credit.
About SimplyHammocks
Thralow Inc. has been in business since 1992 and on the Internet since 1996. Its store address is 200 6th St., Proctor, MN 55810. The company won a 2004 Minnesota Technology Innovation Award, was named a 2004 "Best of the Web" Internet Retailer and earned Inc. 500 status for the second time in 2004.
For more information about SimplyHammocks and its popular line of hammocks, hammock chairs (including its bestselling ethnic hammocks) and other relaxation products, visit http://www.simplyhammocks.com. For more information about the affiliate program, go to http://www.affiliates.simplyhammocks.com.
Media Contact:
Jonathan Thralow
218-625-2002
# # #