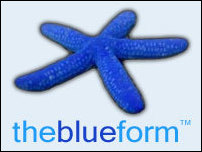 There's nothing secret about what we write in the blog, it's all based on our JavaScript code, which anyone can see. While we were speaking with the developers building The Blue Form, they were frequently discovering new ways of using JavaScript which we hadn't seen done before, so we saw no harm in sharing this knowledge
Melbourne, VIC (PRWEB) July 6, 2006
The Blue Form offers the ability to create common business forms such as expense forms, timesheets, leave forms or any you can think of, using their simple drag-and-drop form designer. The Blue Form allows complete control over the form workflow, allowing you to select approvers, and keep track of the form after it has been filled-in. Forms may be approved by multiple people, and data is on record permanently and available for reports.
Key Features of the Blue Form
The Blue Form offers the following:
Flexible Workflow (Multiple Approvers) with Graphical Interface
Drag and Drop Form Designer
Calculated Fields / Formulae
Email Notification
Support for File Attachments
A Wide Range of Pre-Designed Form Templates
Powerful Search Engine
Reporting / Data Exports
User Groups
Secure 128 bit Encryption
Free Unlimited Number of Users / Unlimited Number of Forms
24 x 7 Support
New Forms Being Developed are Always Completely Free!
Let's take a look at these key features one by one:
Flexible Workflow (Multiple Approvers) with Graphical Interface
The Blue Form's fundamental difference between other solutions is its flexible workflow system. Once a form is created, you must specify what the approval workflow will be for that form.
For example an expense form may need approval by a person's line manager and then again by the organisation's financial controller. The way you make the workflow work is entirely up to you, and is done effortlessly using a graphical interface, showing exactly what happens to a form once it has been filled-in.
Approvers may be either:
a specific user
any user from a specified group
a specific user that is selected from a group each time it is filled-in
Drag and Drop Form Designer
The Blue Form has a state of the art form designer that allows users to create completely customisable forms using a feature-rich drag and drop interface. Until now, this level of interaction was only in the domain of thick-client applications.
Calculated Fields / Formulae
The Blue Form allows formula to be entered into text boxes in a form. For example, an expense form can automatically tally all the individual expenses into a total. Not only does the Blue Form allow formulae, but it provides a cutting-edge interface closely matching that in Microsoft Excel, allowing users to point and click on fields they want to reference as they are entering the formula.
Whenever action is required by a user to approve or review a form, an email is sent to them with a link to quickly take them to the form so that they may take action.
Files may be attached to forms whenever they are filled-in.
A Wide Range of Pre-Designed Form Templates
As well as a range of templates designed specifically for business, The Blue Form offers a range of templates catering specifically for the needs of schools and other educational institutions. Every template may be completely customised to meet individual needs.
The Blue Form's powerful search engine allows all forms submitted to be searched upon, with the ability to search on a wide range of criteria and ensuring that forms submitted far in the past are still only a couple of clicks away.
Using The Blue Form's search engine, all data is available to be reported on and then may be exported in CSV format for later import into Microsoft Excel or your own applications.
User Groups may be created, providing greater control when designing form workflows. For example, a 'Marketing' group may be created with all of the users working in marketing. Forms may then go to the 'Marketing' group as part of their workflow, rather than an individual user.
Secure 128 bit Encryption
All credit card payments are completely secure, as The Blue Form uses strong 128 bit encryption for all sensitive data.
Free Unlimited Number of Users / Unlimited Number of Forms
All The Blue Form plans are based on the number of forms actually filled-in, not the number of people using them or the number of forms designed. This means customers only pay for what they use, offering competitive prices for both large and small organisations alike.
As part of some plans, The Blue Form offers customers 24 x 7 support; the piece of mind that somebody is always on hand to assist with any queries that arise.
New Forms Being Developed are Always Completely Free!
The Blue Form realises that while forms and workflows are being designed, many, many forms are submitted for testing and ensuring they work exactly as expected. Forms in this stage may be flagged as such, and submitting them will never cost a cent!
The Blue Form in the Marketplace
The Blue Form has quickly gained momentum in the IT sector, with many companies already wanting to license customised versions of The Blue Form for their own purposes, as well as the demand they're experiencing with their online service.
We asked one of the directors of Asia-Australia Technology, Adam Tepper, his thoughts on the quick adoption of their new product, "Obviously we've been very satisfied with the positive response we've had so far, yet not completely surprised. Adrian [Przelozny] and I had been involved in many such workflow projects in the past and each time we developed one for a customer, we felt we were repeating 90% of the requirements. We knew there was a demand for the product".
In a different approach to other companies, The Blue Form are also offering a blog called 'The Making of the Blue Form', offering all their technical secrets in creating their cutting edge form designer. Adam Tepper says, "There's nothing secret about what we write in the blog, it's all based on our JavaScript code, which anyone can see. While we were speaking with the developers building The Blue Form, they were frequently discovering new ways of using JavaScript which we hadn't seen done before, so we saw no harm in sharing this knowledge".
The Blue Form has certainly made a solid impact in business circles already and we strongly believe that many customers will be asking themselves how forms were once processed before the advent of such services as The Blue Form.
About Asia-Australia Technology
Asia-Australia Technology is a software development company based in Melbourne, Australia with offices in Sydney and Thailand also. They specialise in .NET and J2EE consulting, with a strong emphasis on workflow related systems.
###