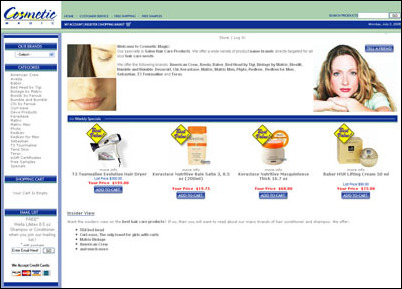 Fort Lee, NJ (PRWEB) July 10, 2006
Why is it that hair looks so great on people leaving a salon? The cut. The color. But essentially—the styling. And how do hairdressers achieve great styling? By using great tools and products. Great tools and products that are not found in the drug store, either. Most of the time, people have to buy these products from the salon itself, where the markup can end up making the products cost as much as the cut. CosmeticMagic.com is offering its clientele an alternative: top-of-the-line products directly, without the high salon markup. CosmeticMagic.com is also among the first to offer a new product line—Matrix Men's Style Control System.
The new line is aimed at men that spend less than five minutes getting ready in the morning but still want to have manageable hair. Matrix's answer to this challenge is their new line of hair care products that do extra work and save users steps. All of the products contain a style manager polymer that cleanses and conditions for dryness. This means that when a man is washing his hair, he his simultaneously styling it. This no-fuss line has initially launched with 8 products, but Matrix plans to offer more.
CosmeticMagic.com sees their new Matrix line offerings as just another step in bringing the hair-conscious consumer the best, "Our goal is to bring to our customers the latest and the best products in our industry at very competitive prices. We offer the very same products used and offered in salons, but without the massive markup. Our new Matrix Men's line is a very exciting addition to our vast collection."
This vast collection offered by CosmeticMagic.com is also very popular with their "curly clientele." The DevaCurl product line has great solutions for maintaining healthy curls. DevaCurl Low-Poo is perfect for ladies that wash their hair every day because the sudsing agent is low, which doesn't strip the hair as traditional shampoos do if used daily. CosmeticMagic.com also offers large volume sized bottles to cut down on unnecessary waste for a product used daily. DevaCurl Low-Poo and No-Poo are both highly recommended and widely used by hair stylists.
CosmeticMagic.com also carries the highly-regarded Kerastase line from Paris. The Nutritive Bain Satin is seen by some users as the closest they can get to a miracle cure for their hair, because it repairs dry and damaged hair without adding weight. The Kerastase Nutritive Masquintense Epais takes it a step further by offering an intense mask treatment for incredibly dry and brittle hair.
Besides hair care products, CosmeticMagic.com also offers professional hair tools. Most of them also come with free shipping since any order over $25 at CosmeticMagic.com is shipped for free. They have professional tools like the T3 Evolution Dryer, Featherweight Dryer, Tourmaline, and Wet or Dry Iron. Other top-of-the-line tools offered by CosmeticMagic.com include the Chi Pink Iron Limited Edition Farouk, the Original 1" Iron, and Pink Iron Limited Edition.
For more information on the new Matrix Men's line, Redken or Kerastase Products, please visit CosmeticMagic.com.
About CosmeticMagic.com:
CosmeticMagic.com is an online outlet for the best names in salon hair care products. They offer tools and products found only in salons but without the salon markup. They are committed to bringing their clients the latest and greatest offerings in the industry direct.
###