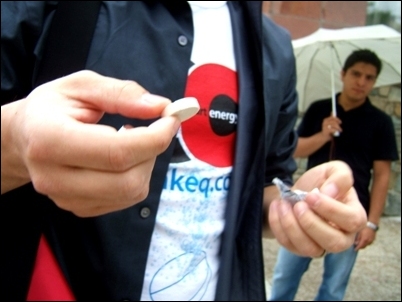 Bethesda, MD (PRWEB) July 5, 2006
It doesn't take a genius to know that most people prefer French fries over carrot sticks, chocolate cake over an apple and a root beer float over tomato juice. It's just the way life goes, healthy doesn't usually translate into fantastic taste. But as more and more consumers are beginning to adopt healthier lifestyles by watching their weight and their diets, people have begun to turn to healthy food and drink options in lieu of more indulgent snacks. In fact, with all the chatter about wonder herbs, plants and fruits, many people even voluntarily choke things down simply in hopes of achieving wellness. EQ, an umbrella company of flavoring specialist FLAVORx, Inc, has defied the odds by successfully masking the taste of a combination of good-for-you components in its effervescent energy drink tablets that include the notoriously unpleasant B vitamin group, bitter tasting caffeine and the characteristically acrid tasting Ginkgo Biloba.
These days, Ginkgo Biloba has a religious following. This wonder herb, discovered by Chinese monks millions of years ago, has been linked to improving memory and mental clarity, relieving tension and anxiety, restoring energy and even elevating mood. Gingko has been included in remedies to cure Alzheimer's disease, dementia, sexual dysfunction and even Multiple Sclerosis. It's of no surprise that consumers are drawn to, and in some cases specifically seek out, products containing Ginkgo. Unfortunately, its pungent, sour taste makes it difficult to swallow, with most consumers and health enthusiasts praying for a product that will help them get their Gingko without the unpleasant taste. What's more, most Ginkgo-lovers automatically anticipate bad taste with products containing their favorite herb.
Most vitamins also have a very tough taste to cover-up. Beyond pills and capsules that bypass the taste receptors, ingesting vitamin complexes by eating or drinking them is not a pleasant experience. Kids can't be to blame when they go running for the hills when a bottle of chewable vitamins is in sight. B group vitamins have an extremely characteristic 'vitamin-taste' which is typically foul and sulfur-like, leaving a very bad aftertaste with most people.
As the industry leader in medicinal flavoring, FLAVORx has developed the expertise to successfully make anything taste good. When President and CEO Kenny Kramm had to derive a formula that would successfully mask the taste of caffeine, Ginkgo Biloba and the multivitamin blend containing many of the B complex vitamins, he knew it was not going to be easy. However, with over 10 years of experience in developing a flavoring system and formulary for over 300 over-the-counter and prescription medications, the task was certainly doable for Kramm. After working and reworking the formula, Kramm's specialized recipe of sweetening-enhancing, vitamin masking and bitterness-suppressing components enabled the product to carry a light flavor, while still disguising the taste of the ingredients. The formula is sugar-free and therefore not syrupy sweet or marked with a tart, acrid, foul or distasteful aftertaste.
Because EQ has such a light flavor, it pairs well with any beverage, making it an instant success among consumers who can customize EQ to their tastes by mixing it with anything from plain tap-water to juices, sports drinks or even sodas. Now a simple glass of cranberry juice can be fortified with Ginkgo Biloba, a healthy multi-vitamin mixture and caffeine simply by adding an effervescent EQ tablet. In addition, consumers need not worry that they will grow sick of EQ's flavor, as simply adding it to a different beverage can automatically change the taste.
EQ is currently available in select convenience stores and on line at http://www.drinkeq.com and will be launched in its first major nationwide chain retailer in mid-July.
For more information please visit http://www.drinkeq.com or contact Teresa Chen at 800.884.5771, extension 234.
###