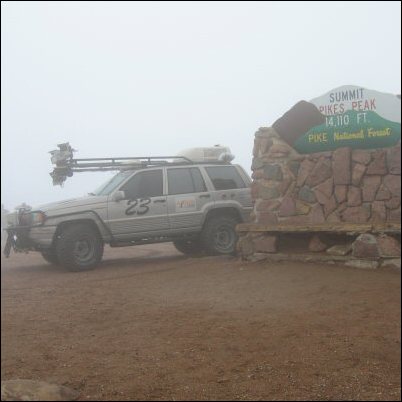 We would have reached the top quicker, but Spirit kept having to apply brakes to stay back from slower human controlled vehicles
Colorado Springs, CO, (PRWEB) July 7, 2006
New Zealand's Rod Millen is the fastest human to ever drive up to the top of Colorado's Pikes Peak, at 10 minutes and 4.6 seconds, but he might start looking over his shoulder. The day after the 90th running of the Pikes Peak International Hill Climb's Race to the Clouds, Axion Racing's autonomous vehicle Spirit completed the 12.42 mile route in 47 minutes and 10.3 seconds. It's almost five times as long as Millen's record, but no one was driving as the vehicle drove around 156 corners, many of them 2,000 foot cliffs with no guardrails.
"We would have reached the top quicker, but Spirit kept having to apply brakes to stay back from slower human controlled vehicles," said Bill Kehaly, Axion Racing's Team Leader, "Our top speed is presently 25 miles per hour and we think we can break 30 minutes at this September's inaugural Pikes Peak Robot Hill Climb."
Using on-board computers to analyze data from GPS signals, lasers, stereo cameras, sound systems, and radar units, the self-driving vehicle is able to know where it is and where it needs to go. These capabilities were successfully field tested when Spirit joined the half million people who reach Pikes Peak's Summit House each year.
"It was visually stimulating watching the vehicle follow the road and drive confidently past the many beautiful vistas on Pike's Peak," said Kevin Shand, Interim Executive Director of the Colorado Film Commission. "It's really going to be something to see multiple autonomous vehicles try their luck on the mountain, later this year." Shand was an observer in Axion Racing's support vehicle, which followed Spirit and had an emergency override system, just in case.
Another observer was Ray Sibley, Director of Risk Management, City and County of Denver (CO). "Axion's test team had a human monitoring everything from the driver's seat, there was the emergency override system, and Spirit has internal and external pause buttons," said Sibley, "Being able to safely stop the vehicle at a moments notice showed real planning by the team."
This isn't the first autonomous vehicle challenge that Axion Racing has been involved with. The team took off sixth in the inaugural 2004 DARPA Grand Challenge and was ranked by DARPA as the third best team (took off fourth) in the 2005 Grand Challenge.
"We've done really well qualifying against big money and universities for the DARPA Challenges." said Kehaly, "Only one team can win and we have been a little unlucky so far on race days." Axion Racing had its GPS system give out on the 2004 Grand Challenge starting line and then went 67 miles (half-way) before unexpectedly pulling left into a ditch during the 2005 Grand Challenge. The GPS problem was fixed with a military grade Inertial Navigation System from Northrop Grumman and a half-hour wheel alignment fixed Spirit's desire to pull to the left.
This fall, Axion Racing is scheduled to compete with almost 1/3 of the total 2005 DARPA qualified (23) teams. They'll all be racing to hold the title "World's Fastest Robot to the top of Pikes Peak". The Pikes Peak Robot Hill Climb will be held September 23, 2006.
DriverlessMotorSports.com's Sam Harbaugh will lead a team making sure each participant is ready to start near mile 7 on Pikes Peak Highway and then each self-driving vehicle will be given an adjusted time at the 14,110 foot summit's finish line.
"We're excited about our chances to set the autonomous record," said Kehaly. "We've already proven that we can make it up to the summit and we'll only get better over the next few months."
Some people thought it was a special opportunity to view the future as Spirit showed off her stuff to visitors at the summit. "I'll tell you, I would love to have my car drive itself back down this mountain" said Jodi Larson, a local Colorado Springs graphic artist, "It would be great to look out and take in all this beauty, without worrying about steering around the next curve."
Rod Millen won't have to worry about losing his speed record just yet, but someday it just might be a robot who own the quickest time up the mountain that inspired Katharine Lee Bates famous poem, "America the Beautiful."
# # #