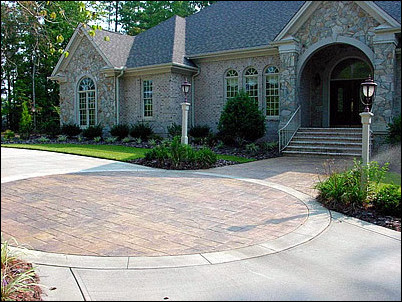 The owner invests a great deal of money and pride in their home. A beautiful patterned driveway and entry is the first thing one sees when arriving and greatly enhances the value and beauty of the home
Yucaipa, CA (PRWEB) July 7, 2006 –-
The Concrete Network, the largest and most comprehensive source for residential concrete information on the web, offers a free downloadable catalog for homeowners, designers, and builders looking for ideas for decorative concrete applications. Pages are filled with all of the necessary information to make an educated decision regarding your concrete driveway make-over. Included are full color photos, and design options in using decorative stamps, stains, sawcut patterns, color options and more.
It wasn't long ago when deciding on a driveway material was easy: asphalt or concrete. Today, the concrete choice has expanded to include decorative concrete. The catalog, Concrete Driveways profiles today's most popular trends amongst homeowners available through decorative concrete applications.
"The owner invests a great deal of money and pride in their home. A beautiful patterned driveway and entry is the first thing one sees when arriving and greatly enhances the value and beauty of the home," said Mark Foreman, Apex Concrete Designs, Inc.
The options for concrete driveways are endless and can be designed to enhance the existing landscape. With the simple addition of a stamp pattern, resembling expensive stone, brick, tile, flagstone or slate patterns, the driveway exudes curb appeal, attracting on-lookers to take notice. Custom colors and stains can also be applied to add character and complement the exterior stucco and other elements of the home.
Established in 1999, The Concrete Network's purpose is to educate consumers, builders, and contractors on popular decorative techniques and applications including stamped concrete, stained concrete floors, concrete countertops, polished concrete, and much more. Over 750,000 visitors research The Concrete Network Web site each month.
The site excels at connecting buyers with local contractors in their area through its Find-A-Contractor service. The service provides visitors with a list of decorative concrete contractors throughout the U.S. and Canada, and is fully searchable by 22 types of decorative concrete work and 198 metropolitan areas throughout North America.
Article photo courtesy of QC Construction Products. Attached photos courtesy of Verlennich Masonry Concrete and Brickform Rafco Products.
###