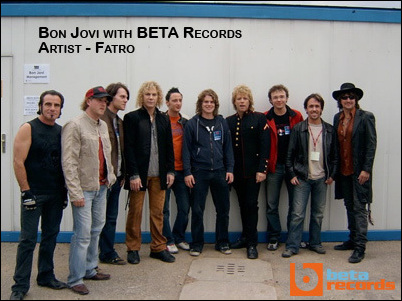 Everything happened like in a movie
Hollywood, Calif. (PRWEB) July 6, 2006
It's every band's dream come true to open for the likes of Jon Bon Jovi and perform for a massive crowd of 75,000. But for an emerging unsigned rock band with no recording contract, that dream is a long, long way off, if it could ever happen at all.
What are the chances of the dream coming true? It would take a miracle, even in the United States, where most successful bands get their start. But an aspiring unsigned rock band from Europe would need an even bigger miracle.
Yet that's exactly what happened for not one, but two German bands this summer when BETA Records, in cooperation with the Universal Music Group, hosted a contest for unsigned bands to fill two opening slots on Bon Jovi's tour.
The members of Bon Jovi believe in giving back. One way is by sharing their success, inviting an up-and-coming unsigned rock band to be the opening act for Bon Jovi's German concerts in Stuttgart and Munich.
The Hollywood, Calif.-headquartered BETA Records (betarecords.com worldwide and beatrecords.de in Germany), a fast-growing Internet-based music company dedicated to finding, developing, showcasing and launching unsigned musical artists, was the perfect match for Bon Jovi and the Universal Music Group.
With the latest in music-streaming technology to distribute its website content to visitors, BETA provided the ideal platform for unsigned German bands to submit music in the competition to be Bon Jovi's support act.
The bands entered the contest by uploading their profile and music to the BETA Records German website. Visitors to the site listened to the music then voted online on Bon Jovi's own website.
When all votes were in, betarecords.de announced that bands Fatro and 2feelgr8 were the big winners. Just a few days after the announcement, at the end of May, Fatro would be opening for Bon Jovi in Stuttgart at the Cannstatter Was'n, and 2feelgr8 would open for Bon Jovi in Munich at the Olympiastadium.
Lead singer Jon Bon Jovi enjoyed being able to provide the emerging bands with their chance of a lifetime.
"We want to offer an opportunity to newcomer bands to showcase in front of a mega audience," he says. "This way, the new generation of rock bands can experience what we are allowed to experience on a daily basis. Giving back to the next generation of bands is a great place to be."
Meanwhile, in the true spirit of fulfilling the BETA mission, Fatro and 2feelgr8 have more than just memories of their dream come true.
"Everything happened like in a movie," says Fatro guitarist Sepp, "and it's almost impossible to describe how it feels to play for so many people. When Dave, our singer, said, 'Stuttgart, raise your hands,' a sea of fans started clapping with the beat, and we knew we would be telling our grandchildren about it. At the end of this amazing day, we had the chance to shake hands with Bon Jovi and take a picture together. That was just as exciting as being onstage!"
But it didn't end there. Equally exciting, the Universal Music Group is currently considering a recording contract with Fatro, and one of Germany's top tour promoters has expressed interest in booking the unsigned rock band, says Sven Kilthau-Lander, Universal's Senior Director of Promotion & Publicity.
And 2feelgr8's momentum keeps going. As another building block in the band's career, 2feelgr8 made the No.1 slot at the top of the betarecords.de chart, further spreading the band's fame and recognition.
Expanding both bands' worldwide reputation and fan base, Fatro and 2feelgr8 garnered close to 5,000 total plays in just their first three weeks on the betarecords.de website. Those numbers are growing daily.
As one of the leading major music websites for unsigned artists worldwide, BETA Records is a springboard for thousands of musicians seeking record deals, gigs and radio airplay, and to get their songs heard and connect with other musicians.
BETA Records President/Chairman/Founder Chris Honetschlaeger adds that establishing the German component of the BETA Records website is only one of the international company's many planned expansions, and the Jon Bon Jovi contest is the second in a series of contests that BETA is hosting.
For more information the unsigned rock band contest, or to schedule an interview with BETA Records founders Chris Honetschlaeger and Georg van Handel, please contact Laurel Fishman, 323/655-8465.
Contact:
Chirs Honetschlaeger
310-999-2382
Laurel Fishman
323/655-8465
###