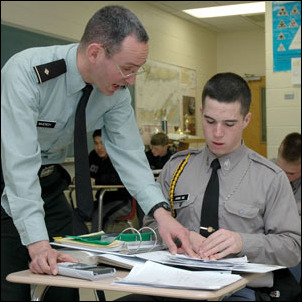 It is a bit disconcerting to be listed alongside some of these other so-called schools
Fork Union, VA (PRWEB) July 6, 2006
"It's a bit like that feeling you get standing in your stocking feet at the airport security line with your shoes in your hand," says Lt. General John E. Jackson, Jr., President of Fork Union Military Academy (http://www.ForkUnion.com). "You're pleased that the appropriate authorities are taking their jobs so seriously, but you're frustrated that they are taking their time scrutinizing you instead of out catching the real culprits. This is outrageous behavior which affects lots of young men who are considering coming to our school next month. It is an unconscionable act to paint the Academy with the same brush as those who are mocking the system. This situation needs to be rectified by the NCAA at the speed of light or irreparable damage will be the result."
School officials at Fork Union Military Academy are baffled by their inclusion on a list of schools subject to further review published yesterday by the National Collegiate Athletic Association. The NCAA has been under pressure to better regulate the upsurge in specialized "prep schools" that seek to give athletes the mantle of college eligibility while offering little in the way of education. "Fork Union is not in that category, we've been around for 109 years." states General Jackson. "Our record of academic achievement stands on its own and to question the rigor, without even visiting the campus, or, at the very least, telling the Academy what concern it may have, underscores the lack of sensitivity and professionalism one normally comes to expect from the NCAA."
Investigative reports by writers with the New York Times and Washington Post newspapers, among others, have uncovered a range of fraud and academic abuses at a variety of bogus schools that contain coaches and athletes, but offer very little in the way of classrooms and teachers. Some of these schools claim to offer correspondence courses or other classes, but have no educational accreditation. Athletes in search of an easy route into college have been drawn into some of these questionable programs and the NCAA has formed a special committee to look into such practices.
Rigorous Academic Program
"If you were to describe the polar opposite of a 'diploma mill' you would be describing Fork Union Military Academy," said Dr. Robert Miller, the school's Academic Dean. "Our academic program is well-defined and rigorous, and the success of our graduates at the college level is a testament to that."
Founded in 1898 by a Baptist minister and housed on a 1,000-acre campus in central Virginia, the school has established a solid reputation throughout the nation for its structure, discipline, and well-rounded program designed to develop young men in body, mind, and spirit.
Students at Fork Union, referred to as cadets, arise to the bugle's call at 6:00am, march to breakfast, and begin their class day at 8:00am where they study college preparatory courses until mid-afternoon. The afternoon is filled with athletics and activities until dinner time. After dinner, the cadets report to their barracks rooms where they engage in a mandatory study period for over two hours each school night. Then it's lights out until 6:00am the next morning.
While the school is well-known for its outstanding athletic programs, the vast majority of cadets are there to take advantage of the school's strong college preparatory academics. Graduating seniors in recent years have been accepted to outstanding universities across the country including the University of Virginia, Vanderbilt, the United States Military Academy at West Point, the United States Air Force Academy, Duke University, and Harvard.
Fork Union Military Academy is accredited by the Virginia Association of Independent Schools and is recognized as accredited by the Virginia Council on Private Education and the Commonwealth of Virginia Department of Education. Just this past Spring of 2006, the school completed the intensive on-site examination process required for recertification by the VAIS organization and received a highly favorable report from Visiting Committee that conducted a thorough audit of all the school's practices and policies. The accreditation visits are conducted on campus at five-year intervals with close scrutiny of the academics, curriculum, financial health, governance, and overall viability of the school, as measured against seventy-six standards of good practice.
Long History Producing College Student-Athletes
One of the characteristics of the school believed to have prompted the attention of NCAA officials is the large number of athletes receiving scholarship offers in relation to the school's size. In a school with a total enrollment of approximately 550 students, two or three dozen athletes go on to participate in Division I college athletic programs each year. Fork Union Military Academy has produced two Heisman Trophy winners (Vinny Testaverde and Eddie George), at least six NBA players, and more than 70 players in the National Football League throughout its long history.
School officials point to this level of success as a sign of the work ethic instilled by the Academy, rather than a symptom of sloppy academics and easy grades.
Eddie George, an NFL All-Pro player for many years and an alumnus of the Academy, described this emphasis on academic achievement in a Dallas radio interview last year, saying, "I was able to draw strength and encouragement to pursue not only my athletic goals, but to become more than just an athlete, but to become a good student and to move forth and become anything that I chose to be in life. That environment instilled a lot of needed discipline in my life at that time. I can't say enough about the staff and the people there that genuinely care about you as a person and want to see you do well academically because they all understand that your athletic career will one day come to an end, but education and knowledge is power and is everlasting until your life ends."
School Officials: "Our doors are open to the NCAA"
Fork Union Military Academy officials say that no one from the NCAA has visited their school to make any determination about the school's academic fitness, but that they welcome the examination.
"It is a bit disconcerting to be listed alongside some of these other so-called schools," says Lt. General Jackson, "but we encourage the NCAA's investigation into the practices of all such schools and welcome NCAA officials to come to our campus and give us a thorough look as well. Our doors are open to them and we are confident they will find what parents and students have found here for over 100 years – a school committed to doing the Lord's work and committed to helping young men achieve success both in academics and in life."
# # #