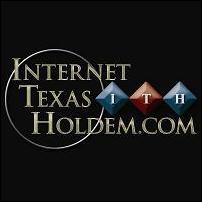 ATLANTA (PRWEB) July 7, 2006
This year, internettexasholdem.com will be providing live coverage of the 2006 World Series of Poker for the first time in its brief history. During its maiden voyage of coverage on poker's grandest stage, Internet Texas Holdem will provide a unique angle in tracking the progress of the best poker players on the internet.
Since January 1, 2006, Internet Texas Holdem (ITH) has tracked the top online poker tournaments and players using an exclusive point scoring system, which will serve as the foundation for crowning the inaugural Online Poker Player of the Year (POY) at the conclusion of the calendar year. At the WSOP, which began Tuesday, June 27 in Las Vegas, Nev. and concludes Aug. 10 with the final day of the main event, ITH intends to follow the live progress of some of the most distinguished players on its POY leader board, which features more than 32,000 poker players from all across the globe.
ITH's Comprehensive Online Poker Newsletter has all the details. Signup for the ITH Online Poker Newsletter.
In its mission to provide thorough coverage of POY candidates at the WSOP, ITH welcomes Ryan Peck to the team as its media correspondent/reporter. With a background in sports reporting, editing and broadcasting, Ryan comes equipped with the skills necessary to provide extensive coverage of some of the top poker players in contention for 2006 POY at this year's WSOP.
ITH is thrilled at the prospect of reporting on such established online players in a live, exceptional venue, and encourages WSOP fans to follow along with ITH in its quest to bring you the best coverage possible from Las Vegas.
About Internet Texas Holdem
Created by Matthew Hilger, poker pro and bestselling poker author, Internettexasholdem.com is your source for exclusive online poker coverage. ITH provides everything from open forum poker discussion, to poker strategy from professionals, as well as online poker room reviews and insight into the best poker bonuses on the web. Furthermore, ITH features an online poker store equipped with authentic ITH apparel and some of the top published poker books, in the industry. If poker knowledge and discussion is what you crave, you will find it at internettexasholdem.com.
For all media inquiries contact:
Ryan Peck
Internet Texas Holdem
770-315-2903
###