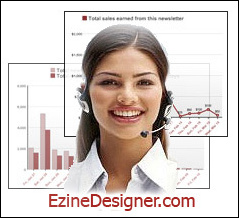 Sacramento, CA (PRWEB) July 7, 2006
The single factor most affecting newsletter profitability is simply this: open rate. Ezine Designer has tackled this email marketing problem head-on by developing an automated split-testing engine – easy enough for anyone to use and powerful enough to create a substantial increase in open rate from the very first mailing.
The relentless proliferation of spam email has led to user "inbox fatigue" – customers scan through dozens or hundreds of incoming emails daily with their fingers always on the 'delete' key. Exhausted by bulk email, they delete any message that does not somehow stand out from the rest. Even after you manage to get your newsletter past spam filters and into the customer's inbox – you must still somehow get them to actually open it. Open rate thus remains the biggest single limiting factor in email marketing-- and the key variable determining open rate is subject line.
This is an obvious and recognized fact and yet, every day, thousands of businesses send out their weekly newsletters with subject lines chosen as an afterthought. Even companies who take subject line authoring very seriously, ultimately have to play a dangerous guessing game. Websites abound offering theories and advice about crafting effective subject lines. In all, it is still largely guesswork.
Ezine Designer manages to completely eliminate this guesswork. Using a powerful split-testing engine, Ezine Designer polls a sampling of your list with each of several alternative subjects – allowing alternative subject lines to compete with one another until one of them emerges as a clear winner. All remaining emails are then sent out using the winning subject line and open rate is maximized. Instead of agonizing over a handful of subject lines, just add them all to the testing queue and let the market choose the best.
While split-testing is normally quite complex, Ezine Designer has completely automated the process, making it easy to use and easy to afford, even for small businesses. Small business accounts begin at only $14.95. Recently, one ecommerce company used Ezine Designer to transform their mailing list from an occasional announcement to a major weekly income stream – accounting for over 30% of their annual revenue.
For additional information about Ezine Designer, contact Shawn Pickering or visit http://ezinedesigner.com.
About Ezine Designer:
Ezine Designer is an email service provider specializing in newsletter dissemination and auto-responders for ecommerce businesses. The engineers at Ezine Designer pride themselves in having created the coolest email marketing engine in the galaxy.
Contact:
Shawn Pickering
(916) 220 3987
###