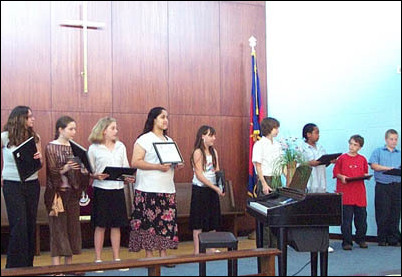 From the very start, this program was conceived as a possible prototype for adoption elsewhere in the northeast, and nationally. This early experience convinces us that we are on the right track
Pittsfield, MA (PRWEB) July 8, 2006
Declaring its initial online music lessons after-school project a solid success, The Salvation Army has announced plans to continue the free program, with the view of expanding it beyond the Berkshires region. A June 22 recital demonstrated the fruits of the innovative public-private collaboration among the Salvation Army and supporting organizations, including WorkshopLive Inc., Pittsfield Cooperative Bank, Guardian/Berkshire Life, Berkshire Community College, Pittsfield Rotary Club and the Pittsfield Cultural Council.
"From the very start, this program was conceived as a possible prototype for adoption elsewhere in the northeast, and nationally. This early experience convinces us that we are on the right track," said Capt. Scott Peabody, of the Pittsfield Corps. "The WorkshopLive approach to online learning proved extremely effective in our music lab. Students found it easy to use, and their progress was remarkable. My guess is that they never knew online music lessons could be this much fun."
Capt. Peabody told attendees at the concert/recital of student musicians that the Pittsfield Corps is now accepting for the second 12-week term of online music lessons, which begins in the fall.
"Music education has been proven to lift students' learning abilities in all subjects," said David Smolover, founder and CEO of WorkshopLive. "The Salvation Army has provided a valuable service in many ways, giving students a constructive after-school activity that is both fun and helpful to their quality of life. To see these students performing after just 11 weeks of lessons was a most rewarding experience. We are proud to be partners in this most worthwhile endeavor."
Available to those in grades 4-8, this new beginner program for to keyboard lessons uses the teaching technology of WorkshopLive, the leading provider of online music lessons. WorkshopLive provided the course content and software; music interns from Berkshire Community College supervised the practice sessions; and Berkshire Life (Guardian) provided the hardware. This program is funded in part by grants from Pittsfield Cooperative Bank, Pittsfield Rotary Club, and the Pittsfield Cultural Council.
About the Salvation Army
The Salvation Army is a global network of people meeting the physical, emotional and spiritual needs of others. In over 100 countries The Salvation Army brings Christian love and hope through feeding, healing, counseling, teaching and evangelizing. Around the world and across the United States, The Salvation Army provides comprehensive community outreach programs for people of all ages and backgrounds, from addiction treatment centers and emergency shelters to child care centers to older adult residences.
About WorkshopLive
WorkshopLive produces the most dynamic and engaging music instruction content on the Web today. Its patent-pending technology delivers the first truly interactive learning experience of its type, with visual and auditory elements that change to suit the preferences and abilities of the student. WorkshopLive incorporates more than 20 years of experience in music education. The company has created hundreds of music lessons in all styles. Other divisions include National Guitar Workshop Publications and summer learning experiences operated at 28 locations around the country, the National Guitar Workshop and DayJams. The privately funded company is based in Pittsfield, Massachusetts. Additional information is available at 413-358-9606, and http://www.workshoplive.com.
NOTE to editors and broadcasters: logos, artwork, sound and video files are available at our Media Center, http://media.workshoplive.com.
WorkshopLive is a registered trademark of WorkshopLive, LLC. All other marks are the property of their owners, and are used for identification purposes only.
# # #