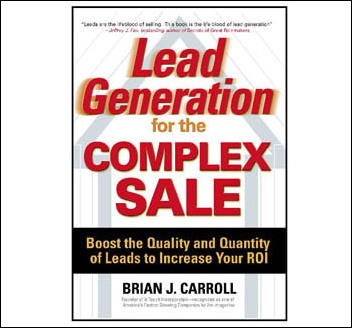 It's amazing to me how powerful bloggers are today
Arden Hills, MN, (PRWEB) July 18, 2006
Fueled by rave reviews from bloggers, Brian J. Carroll's new book Lead Generation for the Complex Sale has consistently ranked among the top 100 books on Amazon.com in the sales and marketing book category since the book's release on June 16. In the book, Carroll shows companies how to boost the quality and quantity of their sales leads to increase return on investment. Carroll is CEO of InTouch, Inc., a recognized leader in lead generation and helping companies that make complex sales acquire and maintain strong customer relationships. Listed as one of the fastest growing private companies in the U.S. by Inc. magazine, InTouch has achieved a five-year sales growth of 430 percent.
"It's amazing to me how powerful bloggers are today," says Carroll. "In just a few short weeks, sales of my book have been propelled by word of blog. With a new post appearing nearly every day, I'm excited that the momentum is continuing."
Some of the blog links and comments about Lead Generation for the Complex Sale include:
Debbie Weil in The Corporate Blogging Book: "…you gotta have Brian's book on your desk."
Sridhar Ramanahan of Pacifica Group: "A must read …"
Jill Konrath in Selling to Big Companies: A "recommended resource"
Web Ink Now by David Meerman Scott: "…a great book…"
Ask Justin Hitt Blog: "…his book is so good…"
SoftLetter - Business Insights for Software Developers and Publishers
Church of the Customer Blog by Ben McConnell & Jackie Huba
Technosight Blog by Ken Yarmosh
Marketing Interactions by Ardath Albee, Einsof, Inc.
BeTuitive Publishing by Maria Schwieder
Lead Generation for the Complex Sale arms readers with a sophisticated multimodal approach to generating highly profitable leads for complex sales. Carroll reveals key strategies that readers can implement immediately to win new customers, accelerate growth, and improve return on investment. Carroll's unique multimodal integration of tactics and best practices empowers readers to:
Align sales and marketing efforts to optimize the number of leads.
Use multiple lead generation vehicles, including e-mail, referrals, public relations, speaking events, webinars, and more.
Create value for the prospective customer throughout the buying process.
Manage a large group of leads without feeling overwhelmed.
Work with leads during the closing process.
Avoid lulls in the sales cycle.
Dialog with numerous executives as trusted advisors.
Increases the percentage of leads that become profitable customers.
Identify and prioritize best prospects.
Ready oneself for what's next -- new and promising tactics.
Brian J. Carroll is founder and CEO of InTouch Inc., one of the first companies to provide lead generation solutions for the complex sale. He speaks to 20,000 people a year on improving sales effectiveness and lead generation strategies. Carroll has been featured in major metropolitan newspapers and business publications and is regularly quoted as a lead generation expert on and offline including: BtoB Magazine, CMO Magazine, The Wall Street Transcript, Inc. Magazine, Direct Marketing News, MarketingProfs, MarketingSherpa, and RainToday. His acclaimed blog, http://blog.startwithalead.com, is regularly read by thousands each week and won the 2006 best B2B marketing blog readers choice award from MarketingSherpa.
Lead Generation for the Complex Sale details a proven approach to lead generation that has resulted in 2,000 to 5,000 percent return on investment. Author Brian Carroll arms readers with several sophisticated methods for generating highly profitable leads for complex sales. Carroll is CEO of InTouch, Inc. and an expert in lead generation solutions; his book reveals key multimodal strategies that you can implement immediately to win new customers, accelerate growth and improve ROI.
For more information, please visit http://www.leadgenerationbook.com/.
# # #