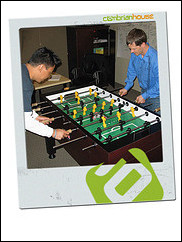 We've had over 600 idea submissions to date and the number keeps growing exponentially. The quality of the ideas people are submitting are wonderful and we can't wait to start our first project
Calgary, Canada (PRWEB) July 10, 2006 -–
The Cambrian House Inc. announced today that their recently launched online community has already broken the top 100 reached websites in Canada. The statistics were compiled by Alexa.com the Internet based company that collects web traffic data through the participation of their community and the use of their toolbar.
The accomplishment came only 2 weeks after Cambrian House launched their website, an online community that brings entrepreneurs, designers, developers, and marketers together to commercialize software.
"The response that we have received since we launched has been amazing, people are really excited about this community and telling all their friends," says Michael Sikorsky, CEO of Cambrian House. "I think everyone sees value in the Cambrian House in different ways and that's important to us. Our community is open to anyone who wants to join and is willing to share their ideas or skills."
The Cambrian House website is currently in beta and is collecting software ideas, which are then displayed on their website for the community to vote on. "We've had over 600 idea submissions to date and the number keeps growing exponentially. The quality of the ideas people are submitting are wonderful and we can't wait to start our first project," says Sikorsky.
You can join the Cambrian House community at:
http://www.cambrianhouse.com/community/join/
About Cambrian House
Headquartered in Calgary, Canada - Cambrian House opened its doors on February 1, 2006. Using the internet to harness the wisdom and participation of crowds, Cambrian House seizes creative software ideas from the ether and builds them into real software. With the use of online market testing, Cambrian House then objectively determines if an idea should be built or be terminated at conception.
If you require additional information or have any questions or concerns please contact:
Cambrian House
Michael J. Sikorsky, CEO
Email: media @ cambrianhouse.com
Tel: 403-263-2042
###