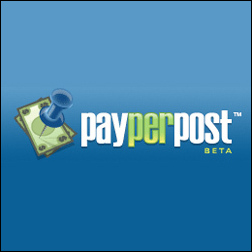 It represents a completely new outlet for advertisers and a new income stream for bloggers.
Orlando, FL (PRWEB) July 10, 2006
PayPerPost.com™ announced the formation of a new company and service offering today that connects advertisers and bloggers in a whole new way. The company, founded by Internet marketing entrepreneur Ted Murphy, will allow advertisers to reach out to bloggers through a proprietary self-service Internet application. The service ushers in a new form of advertising called Pay Per Post or "PPP". The company believes the service will compete heavily against PPC and CPM models offered by companies such as Google and Yahoo.
"Our service offering completely redefines the concepts of product placement, product endorsement, consumer generated marketing, buzz building and search engine marketing. We are leading a blogger revolution," said Murphy. "Media companies and celebrities have been compensated for endorsement and product placement for years. Finally bloggers will be compensated for all the traffic and sales they generate when they blog about products and companies."
The new service replaces the offerings of BlogStar Network, previously a division of Murphy's other company MindComet. "BlogStar Network allowed us to lay the foundation for PayPerPost.com. For the past two years we have been signing up bloggers and manually executing campaigns on behalf of our clients. PayPerPost.com automates the majority of the process and allows us to manage a higher volume of bloggers and advertisers while maintaining quality controls."
Using PayPerPost.com advertisers create an "opportunity" for bloggers. That opportunity, along with opportunities from other advertisers, appears on a searchable index displayed to PayPerPost bloggers. The bloggers review the requirements for the opportunities along with the amount offered by the advertiser for blogging about the topic. The blogger writes about the opportunity, PayPerPost.com staff review the content and the blogger is paid upon completing the terms of the agreement.
The solution eliminates the need for advertisers to approach individual bloggers in order to promote their product or service. Bloggers that join PayPerPost are willing and able to blog for cash incentives and advertisers can now easily facilitate a massive online promotion.
"The PPP model delivers more bang for the buck than any CPC or CPM model. The ads are posted within the blogs themselves. They are integrated within the content, and as such they get read, search engine indexed and syndicated through RSS with the rest of the blog," stated Murphy. "It represents a completely new outlet for advertisers and a new income stream for bloggers."
The site went live Thursday, June 29th and is currently accessible to both advertisers and bloggers. Advertisers and bloggers can join the revolution at http://www.payperpost.com.
# # #