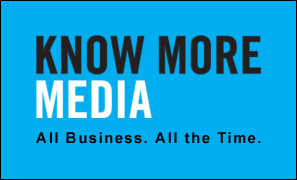 We are very pleased to be attracting such experience and talent to our author team
Orange County, CA (PRWEB) July 12, 2006
Know More Media, an online publisher of business information and news, and one of the world's largest business blog networks, has published ten new niche content blogs in the past six weeks for its rapidly expanding business blog network. Know More Media publishes a network of business-related blogs that offer real-time news, information, and advice on a variety of business topics. Their blogs are authored by authorities in their specific fields.
"This kind of growth is consistent with our network goals and strategy, and we are thrilled to see it," said Hal Halladay, CEO of Know More Media. "We continue to focus on providing expert niche content on business topics. The authors of these new blogs are actual experienced practitioners in their fields. Our readers benefit by hearing straight from the mouth of such authorities."
The ten new blogs and authors cover a variety of business topics, from international business to online business. They are:
PowerSellerKing.com (http://www.PowerSellerKing.com) is authored by Ty Tribble, who has been an eBay Powerseller for over three years. This blog focuses on eBay and other online auctions, offering powerselling tips and information.
EnablingAngels.com (http://www.EnablingAngels) is authored angel investment expert and manager Jeff Jordan, and centers on the industry of angel investing -- enabling start-up companies and entrepreneurs through angel investing.
TheBizofKnowledge.com (http://www.TheBizofKnowledge.com) is authored by Bill Belew, a former owner of a for-profit school and a current teacher at a for-profit university. This site is devoted to the business of for-profit education, from language schools to vocational schools and universities.
IndianRaj.com (http://www.IndianRaj.com), authored by Razib Ahmed, a south Asian business expert, addresses business in India, Indian businesses, and the ascendancy of India as an economic world power.
ItsBadBusiness.com (http://www.ItsBadBusiness.com), authored by Jocelyn S, is a discussion that exposes companies and organizations that do bad business with little regard for ethics or customer service.
OurBollywood.com (http://www.OurBollywood.com) is authored by Tanya Palta, a Bollywood expert living in India, and covers Bollywood, the business of Bollywood, Bollywood news, and the Hindi cinema; the movies, actors, producers, and studios that run Bollywood.
SmartTechWriting.com (http://www.SmartTechWriting.com) is authored by Stuart Mudie, an established technical writer and editor in Paris France, and Jayvee Fernandez, an editor specializing in the technology field for a publishing company in the Philippines. This blog discusses the industry of technical writing, what makes a successful technical writer, technical writing careers, help guides, training, schools, advice and tips for better technical and technology writing.
OnlineAdSwami.com (http://www.OnlineAdSwami.com), authored by Noel Bautista, who has worked on the cutting edge of online advertising for the past three years, discusses the ins and outs of Adsense, banner ads, text ads, CPA deals, and other online advertising networks, and how to best utilize them to generate revenue online.
RisingSunofNihon.com (http://www.RisingSunofNihon.com) is authored by Bill Belew, an expert on Japanese business who lived and worked in Japan for over twenty years. This site is dedicated to business in Japan, Japanese businesses, and the economic and industrial might of Japan (Nihon).
PayPerClickIQ.com (http://www.PayPerClickIQ.com) is authored by Brandon Hopkins, a savvy website veteran who has owned and operated dozens of profitable websites, and instructs how to Adwords, Overture, AdCenter, and other Pay-Per-Click campaigns to maximize Return On Investment of online web properties.
"We are very pleased to be attracting such experience and talent to our author team," said Dan Smith, VP of Publishing for Know More Media. "It is important for us to offer original and valuable content to the online information seeker. Our business blog network is unique and powerful because every one of our authors is an expert in their individual field of business."
About Know More Media
Know More Media, http://www.KnowMoreMedia.com, is a rapidly growing online publisher of business information and news, and is headquartered in Orange County, CA, with an office in Provo, UT. Led by a team of seasoned business executives with many years of online publishing and business management experience, Know More Media is a revolutionary departure from traditional business publishing. The Company contracts with expert writers from across the globe to supply valuable business-related blog content to the online world. Its authors are typically practicing authorities in their fields, who provide their business advice and knowledge to business readers through a blog. Readers are encouraged to participate through comments and continuous feedback, thereby not only learning, but sharing their valued experience to an ever-expanding community of business expertise.
# # #