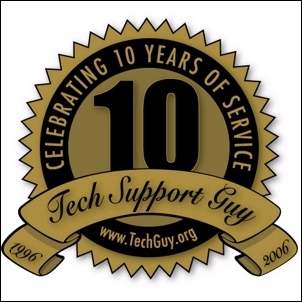 1003 Best Free Things On the Web
Waynesboro, PA (PRWEB) July 11, 2006
Tech Support Guy announces its 10 year anniversary. Tech Support Guy is an online resource, rescuing people from computer crisis since 1996. Supported entirely by sponsors and donations, Tech Support Guy is a community of volunteers who provide technical support free of charge. Entering its second decade of problem solving, they offer an alternative to shelling out money by the minute for corporate technical assistance. Hailed by Yahoo Internet Life's "Top 50 Most Incredibly Useful Sites" and NetGuide's "1003 Best Free Things On the Web," Tech Support Guy's value is evidenced not only in its accolades, but in its longevity.
Tech Support Guy, initiated by a teenager, thrives and matures
Mike Cermak, the original Tech Support Guy, innovated and established the web site at the age of 14. A high school prodigy, 10 years later he maintains a modest perspective of his contributions, while still advocating enlightenment and growth. According to Cermak, "The site has grown from a simple site of common solutions to a whole community of people trying to help others. We learn and share and see a lot more than tech support come out of the site every day. I like to think that we make some small difference in the world. Even in this day of complicated software, spyware and viruses, our great team of moderators and volunteers help to make computing a little easier for everyone who visits."
Benefit from Tech Support Guy in their second decade, at techguy.org
Mike Cermak's web site has earned awards and praise on a national level. His contributions have been touted and displayed in a myriad of sources, including Money Magazine, ZDTV Television Network, the Computer America Radio Show, CNET Radio, PC World Magazine, Computer Shopper, NetGuide Magazine, and Family PC Magazine.
Tech Support Guy currently provides for over 220,000 members, harboring 27 forums that field questions from computer underdogs to virtuosos alike, and supplying monthly newsletters, all at zero cost to the public. Tech Support Guy equips and advises, offering a rare commodity in the computer world: free, quality assistance at techguy.org.
###