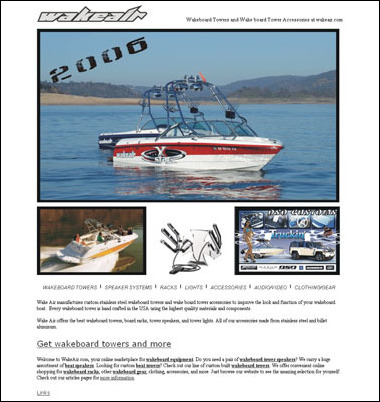 Roseville, CA (PRWEB) July 13, 2006
Serious wakeboarding means having serious accessories. Wakeair.com has been the answer for those who are serious about their sport since 1997. Now, the top custom wakeboard towers manufacturer in North America has expanded its facilities to enable them to produce their wakeboard equipment entirely under one roof in Roseville, CA.
The move follows the demand for high quality, custom wakeboard towers. Wakeair.com has been featured at SEMA, the world's largest aftermarket accessory show, for precisely this reason. They produce wakeboard equipment that is specifically molded to the exact dimensions of one's boat. Popular boat models that have sported the custom boat towers are Cobalt, Formula, Fountain, Chaparral, Sea Ray, and Four Winns. Towers built by WakeAir.com have ranged from 16 feet all the way up to an impressive 38 feet.
The benefit of custom wakeboard gear is that the wakeboard towers and speakers are specifically manufactured to fit the curves of the designated boat. Buying a universal tower instead of a custom made tower can mean expensive repairs in the future. The universal towers are attached using universal mounts that are not precisely measured to a specific boat's curvature. Not having a snug fit could result cracks in the fiberglass of a boat. These cracks can cost hundreds or thousands of dollars to repair. Custom built towers, on the other hand, fit neatly against a boat's fiberglass, since they are handmade with the boat's exact dimensions and curvature in mind.
Also, custom wakeboard equipment is not made with extendable joints, as universal towers are. This means that they will not rattle after an extended period of use. Essentially, while universal towers save money to the buyer initially, they can cause expensive headaches later on.
Since more and more people are recognizing the value of a custom tower, the demand has led WakeAir.com to double its production facilities. They value the customized, high-quality service that they provide wakeboard enthusiasts everywhere. Owner Brian George elaborates, "The one thing that never fails to amaze me is our employees drive for quality and customer service. I have never seen a more driven crew. From our fabricators and installers to our sales staff, everyone's goal is to make the best quality wakeboard tower on the market."
Wakeair.com's website has actual pictures of boats using their custom-built towers. Along with their custom tower offerings, WakeAir.com also carries an extensive line of racks, speakers, lighting systems, mirror mounts, and more to complete the look. They manufacture their stainless steel towers for virtually any make and model of boat. Also, their customer service representatives are happy to answer any questions a visitor has while shopping for their tower.
For more information on custom wakeboard gear, please visit Wakeair.com.
About Wakeair.com:
Michael Mitchell, Brian George, Dennis Wilson, and Thomas Mitchell, Sr. are the owners of Wakeair.com. Their 19 years of experience in race car manufacturing and precision metal fabrication has led them to become the leader in custom wakeboard gear manufacturing in North America since 1997.
###