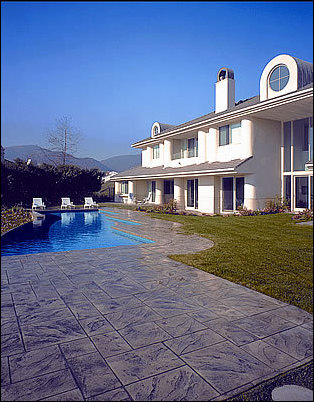 The benefits of concrete are many. It can provide an extremely durable surface, as compared to a wooden deck or even stone. With the new techniques for stamping and applying decorative concrete, any look can be creative at a fraction of the cost
Yucaipa, CA (PRWEB) July 14, 2006 –-
The Concrete Network, the largest and most comprehensive source for residential concrete information on the web, offers a guided concrete pool deck pictorial tour of the many decorative options available to homeowners, builders and designers. From decorative stamping to concrete pavers, never has concrete looked so beautiful. The tour includes the fundamentals of pool deck construction, and each option is illustrated with a beautiful color photo for better understanding of the finished product.
The tour highlights seven popular techniques being used by concrete contractors everyday. They include: stamped concrete, stone coping and exposed aggregate, flagstone, colored concrete, concrete pavers, and decorative stenciling. The tour simplistically addresses these techniques and also highlights pool deck construction principles for homeowners and concrete contractors to reference.
One of the most important considerations for constructing any pool deck is the type of material to use. Deck areas surrounding a pool can run the gamut from poured in place concrete, broom finish concrete, exposed aggregate, tile, to brick pavers or natural stone masonry. These days, decorative concrete pool decks are an ideal answer.
"The benefits of concrete are many. It can provide an extremely durable surface, as compared to a wooden deck or even stone. With the new techniques for stamping and applying decorative concrete, any look can be creative at a fraction of the cost," says Silvano Salvatici, with Sublime Concrete Solutions in Fairview, TX.
The decorative concrete options for concrete pool decks are limitless and offer great alternatives to other forms of deck construction. Several of these options can be seen at The Concrete Network's online decorative concrete pool deck photo gallery.
Established in 1999, The Concrete Network's purpose is to educate consumers, builders, and contractors on popular decorative techniques and applications including stamped concrete, stained concrete floors, concrete countertops, polished concrete, and much more. Over 750,000 visitors research The Concrete Network Web site each month.
The site excels at connecting buyers with local contractors in their area through its Find-A-Contractor service. The service provides visitors with a list of decorative concrete contractors throughout the U.S. and Canada, and is fully searchable by 22 types of decorative concrete work and 198 metropolitan areas throughout North America.
Article photo courtesy of Brickform Rafco Products. Attached photos courtesy of Apex Concrete Designs Inc and Sullivan Concrete Textures.
###