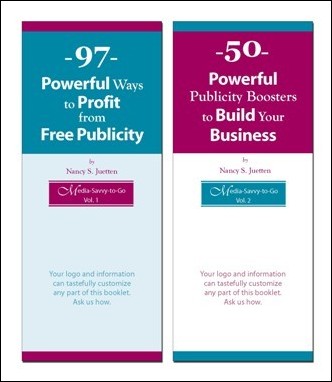 We are pleased to have the opportunity to play the game
Bellevue, WA (PRWEB) July 12, 2006
Business owners and professionals eager to grow their businesses and profit from the power of positive publicity can access newly released and affordable information products from the Website for Nancy S. Juetten Marketing Inc. (http://www.nsjmktg.com ) to get the job done. The products are filled with instantly-useful information and can also serve as marketing tools themselves.
The "Media-Savvy-to-Go" tips booklets, audio CD's, and E-workbook educate and empower business owners to harness the power of the media to their own reputation-building advantage.
Founder, President, and Chief Publicity Officer Nancy S. Juetten created this line of information products so business owners and professionals can create their own media buzz without incurring the expense of retaining a public relations agency.
"Every growing company has its own unique story to tell, yet many lack the media savvy or skills to bring their stories to the media's attention in a winning way," Juetten explained. "These products demystify the media relations process and offer 147 powerful ways that business owners can build their businesses and profit from the power of positive publicity," she added.
Best of all, the booklets and audio CD's can serve as premiums for clubs, organizations, and associations to offer to their members, clients, and sponsors as valuable promotional tools to advance everyone's business building interests.
Paulette Ensign, the founder, CEO, and chief visionary for Tips Products International (http://www.tipsbooklets.com), has sold over 1 million copies of her booklet, "110 Ideas for Organizing Your Business Life." In fact, she said that the Lillian Vernon Catalog Company licensed her content to create 250,000 tips booklets that compelled catalog shoppers to buy more merchandise from within the catalog. Ensign said that the company tracked a 13% sales increase specifically to the booklet offer.
Juetten said, "Results like these are what business owners today are hungry for, and our new "Media-Savvy-to-Go" tools can help them achieve any variety of revenue-generating benefits.
"Whether bulk buyers use the booklets or CD's to thank their customers for their business, offer them to prospects at trade shows, or package them as a value-added bonus with a product or services they sell, they can earn client appreciation and loyalty as they apply the information to their own business building advantage," she added. Best of all, booklet orders of 1000 or more can be customized with organization or sponsor logos and marketing offers and information.
National publicity experts such Joan Stewart and Susan Harrow have reviewed Juetten's tips booklets favorably.
"Don't spend any more time or money on your publicity campaign until you read these booklets. When it comes to forming strong relations with the print, broadcast and online media, Nancy Juetten clearly understands that getting publicity is all about building relationships with the media, and Publicity Hounds everywhere need to read her tips. These booklets are a fabulous crash course on how to be media-savvy."
Joan Stewart, The Publicity Hound
http//http://www.publicityhound.com
"Solid, sound advice from writing an ezine to handling a media interview. Nancy Juetten's booklets give you a quick checklist of everything you need to know about doing a publicity campaign."
Susan Harrow, Media Coach, Marketing Strategist and Author
of Sell Yourself without Selling Your Soul
http//http://www.prsecrets.com
Here are few example tips to demonstrate the value within Volume 1:
31. Go beyond the notion that if it bleeds it leads. It is not necessarily so. Sometimes, TV and print assignment desk editors crave visuals on the lighter side of the news. Capturing the magic of the downtown holiday lights or the last minute Easter rush at the local chocolate shop can provide timely, relevant, refreshing, and visual news. These kinds of stories can serve as the close to any local news broadcast or grace the cover of your local newspaper.
74. Avoid the dreaded LAQ. LAQ stands for "lame ass quote." "I am just so excited to bring my product to market," "We are pleased to have the opportunity to play the game," and "I'm just happy to help the ball club" are LAQ examples. These statements might work for the movies, but they don't offer much value to inform readers, listeners, or viewers.
Here are a few example tips to demonstrate the value of tips within Volume 2:
17. Invite new ezine subscribers. Register your ezine to sites such as http://www.ezinearticles.com. Here ezine readers and publishers from coast to coast and worldwide can review a brief and compelling summary about your ezine and elect to opt-in. Plus, this helps your name and company name pop up more readily in the search engines.
37. Promote your events on http://www.craigslist.com. The "community" section of this site is an online bonanza of publicity opportunities to reach potential customers from hundreds of cities across the nation.
Visit the online store at http://www.nsjmktg.com to learn more about all of the "Media-Savvy-to-Go" information products. Customers can purchase both tips booklets for as little as $8 for the downloadable versions and $10 for the hard copies.
More about Nancy S. Juetten Marketing, Inc.
Nancy S. Juetten owns Nancy S. Juetten Marketing, Inc. (http://www.nsjmktg.com ) – a results-oriented public relations and communications agency that delivers quality service in an engaging, authentic, and winning way. Since opening her business in February of 2001, her firm has served dozens of top Puget Sound organizations and brought their winning ways into the media spotlight. She has written articles on media relations topics for the Puget Sound Business Journal, the Snohomish County Business Journal, and Marketing. Nancy also ghostwrites regularly for a number of top CEO's. She is also the creator of Media-Savvy-to-Go information products (booklets, an audio CD collection, and an e-workbook) that offer 147 powerful ways to build your business and profit from free publicity.
# # #