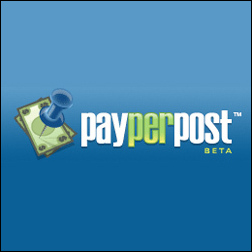 Some skeptics may misunderstand what PayPerPost.com could ultimately represent
Orlando, FL (PRWEB) July 13, 2006
PayPerPost™, the Consumer Media Advertising Network, today announced a revolutionary concept in charitable fundraising. The company, which pays bloggers to blog about topics paid for by advertisers, now provides bloggers with the option to keep the money they have earned or select to donate it to a recognized charitable organization.
"We are extremely excited to announce our charitable donation program," said Ted Murphy, founder and CEO of PayPerPost, Inc. "The new program empowers bloggers to blog about the things that interest them in an honest and open way while contributing to the betterment of our world though charity. It's amazing to think that a single blog posting could contribute to a cause that's plaguing society today."
The Beta version of PayPerPost.com went live on June 29th to some initial skepticism. Business Week claimed the company would "Pollute the Blogosphere", while top blogs including TechCrunch.com and Scobleizer also questioned the PayPerPost.com concept.
"Some skeptics may misunderstand what PayPerPost.com could ultimately represent," said Murphy. "We have created a channel that connects companies and vocal end users in a whole new way. Yes, the concept will evolve, yes it could be misused, but at the end of the day PayPerPost puts the power in the peoples' hands and that is what the blogosphere is all about. I believe our charitable donation program enhances our business model and our company's social contract."
Murphy and the companies he has previously formed have been long time contributors to charitable organizations. PayPerPost will initially allow bloggers to donate to Habitat for Humanity and the American Red Cross. Additional charities will be included based on blogger and organization requests. The program is currently live and can be accessed at http://www.payperpost.com.
# # #