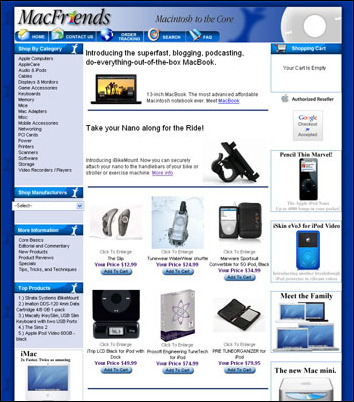 Google Checkout makes online shopping easy by providing a single log-in to buy across the web and by identifying fast, secure places to shop in Google search result ads.
Lafayette, LA (PRWEB) July 14, 2006 -—
One should always expect the latest technology from any store that focuses on computers and accessories. Not one to disappoint, MacFriends, Inc. has just announced that they will be among the first to offer their customers Google's latest technology—Google Checkout.
This new checkout option means that visitors to MacFriends.com will have the ability to checkout with iPod nano accessories or other purchases safely, securely, and without a credit card in hand. Google Checkout only requires that a customer log into their account when purchasing Mac computer games or other products from MacFriends.com or any other participating store. Then, Google charges the customer's credit card which is stored in their Google Checkout account. This makes shopping at MacFriends convenient and simple, because there is no need to reference a credit card every time a purchase is made. Google Checkout also makes keeping track of purchases simple, because the information and receipts are all stored in the user's Google account.
MacFriends is no stranger to offering the latest technology and products to its customers. Since their opening in 1993, they have been longtime advocates of all things Macintosh. They offer the latest Apple computer systems, iPods, iPod nano accessories, Mac software and more. Richard Sarver, President of MacFriends, Inc. is thrilled to present his customers with this new easy checkout technology, "Google Checkout makes online shopping easy by providing a single log-in to buy across the web and by identifying fast, secure places to shop in Google search result ads."
Online stores that choose to offer Google Checkout will be marked in Google search results with the Google Checkout badge. This visual reference will make it easier for users to identify and buy from online stores that offer Google Checkout. MacFriends has had the opportunity to be among the first stores with the Google Checkout badge because they are a MonsterCommerce shopping cart software client.
MonsterCommerce is one of the first e-commerce providers to offer its clients Google Checkout. Sarver highlights his successful relationship with both Google and the shopping cart software provider, "MonsterCommerce makes great ecommerce software and that's why we're with them. It has been an honor that we have been asked to participate with MonsterCommerce and Google, to make the online shopping experience better for our customers. Having a relationship with MonsterCommerce and Google and having them ask us for ideas and feedback and being a part of that process, has been exciting—we're all in favor of making shopping online easier for everyone involved."
Visitors to MacFriends.com will find that getting the right iPod nano accessories or Mac computer games is now quicker and easier thanks to Google Checkout. MacFriends is also the exclusive US distributor of the iBikemount. Their online storefront makes finding the exact Mac product you need just as easy as making the purchase with Google Checkout.
For more information on the iBikemount and other Macintosh items, please visit MacFriends.com.
About MacFriends, Inc.:
Co-Founded by two Mac advocates, Ben Hampton and Richard Sarver, MacFriends opened its doors in 1993. Since then the Lafayette, La company has grown to support thousands of customers as an Apple Authorized Reseller. There focus is Macintosh compatibility, which is evident in their driving theme, "Macintosh to the Core!"
###