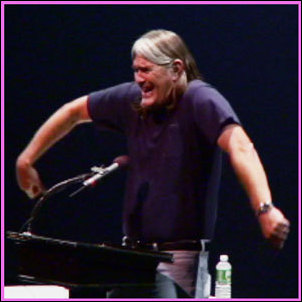 There are, right now, a list of repressive social things - Usually I get smoking and that ends it right there. All progressives suddenly decide state intervention to repress the social habits of communities of color and poor people as for their own good like it's something to be applauded because, after all, (snickering) 'I don't like the smell!'
Elgin, IL (PRWEB) July 14, 2006
On the July 4th weekend at Baltimore's Mid-Atlantic Radical Book Fair, University of Colorado-Boulder's Professor of Ethnic Studies, Ward Churchill, spoke to a semi-filled theater of left-wing activists from around the country. Walking Eagle Productions, a documentary film company focusing on free speech, academic freedom, and American Indian issues, filmed the speech in its entirety. It was Churchill's first public speech given just several days after CU's Interim Chancellor, Phil DiStefano, announced plans to fire Ward Churchill based on multiple grounds of serious research misconduct (as reported on CU's own Web site). Churchill's speech for the event was thus titled, "Rules for Thee, but Not for Me: The Politics of 'Academic Misconduct' in a Time of Intellectual Repression."
The Book Fair hosts issued a statement of solidarity with Churchill on their web site, dismissing all of the findings by CU as part of a grand right-wing conspiracy. "Churchill has given us the best history of state repression after the 1960's," announced one of the event hosts to the audience. "He's become the most visible target for the right-wing in their quest to muzzle anyone who speaks out, especially radicals and progressives in the universities here."
For the first half hour, Churchill attacked CU's Investigative report on his academic misconduct, downplaying the findings as merely "a matter of a few footnotes." Next, Churchill switched subject matter and commentary, which included:
Equating the oppression of smokers to the oppression of ethnic minorities and the poor "Now, a little personal venom comes out here," started Churchill. "I couldn't smoke my cigarettes without pretending I was going to be spreading nerve gas through the environment." (Soft laughter.)
"There are, right now, a list of repressive social things - Usually I get smoking and that ends it right there. All progressives suddenly decide state intervention to repress the social habits of communities of color and poor people as for their own good like it's something to be applauded because, after all, (snickering) 'I don't like the smell!'"
Frequent Nazi references and comparison of politicians, media pundits, and his critics to "Nazis" and "Holocaust deniers," including Bill O'Reilly, David Horowitz, and Dick Cheney. Churchill also compared CU Boulder to German university models from the WWII Nazi era.
Digression into quality-of-life issues. "You can't really deliver a lecture with all the skateboards sailing by, each of which is louder as it goes down concrete than a Harley-David (sic) motorcycle on full throttle. People standing on 'em impersonating ghetto people, although usually they're coming, in Colorado, from $180,000 a year families, so they had their baseball caps on backward and headphones plugged in as they sail out into traffic because the sign says 'Yield to Pedestrians' while they, I don't know, what is it you do on cell phones now? You use them with mini-computers, right? Text-messaging, or something?"
After some polite applause and soft laughter, Churchill blurted out a joke regarding what he perceived as the hilarity over how passengers on the 9/11 flights were "easily" hijacked by terrorists and flown into the World Trade Center.
"You do remember, the incident which the terrorists overpowered the stewardess on the aircraft and tweezed her eyebrows with his tweezers, until she screamingly submitted to fly the plane into a building remember that one?" Joked Churchill. "Tweezers… tweezed into submission."
A smattering of nervous laughter followed, but at least one person in the audience was left with an entirely different reaction.
"I was disgusted by that statement," said Peter Fotopoulos, an attendee from Churchill's home state of Colorado. "It shows all that talk he made about mourning the suffering and deaths of Iraqi Children – that was the excuse he has given all along for his statement. Yet here he's actually laughing about the mass murder of American citizens, including children, on those hijacked planes. Since when does any humanitarian do that – laugh about people being murdered? It was absolutely disgusting of him to do that. I had a friend who was killed in the World Trade Center. Ward's exploited not just my friend's death but now the murder of the flight's passengers; he's been laughing all the way to the bank."
"Maybe what we're seeing is Churchill finally speaking his mind unfiltered, and it's not a pretty picture," said Grant Crowell, a producer with the documentary film company Walking Eagle Productions (WEP), who attended of Churchill's speaking event. "It's a radical departure from his own writings, which may now come across as just feigned humanitarian outrage, especially when he shifts towards mocking murdered American citizens, including children."
(The complete video of the event is available on the Walking Eagle Productions media server. Part one shows a one hour segment of Ward Churchill's opening speech. Part two contains 45 minutes of Ward Churchill fielding questions from the audience, including an opening one on free speech from WEP's very own Grant Crowell. (Audo versions of part one and part two are also available for listening.)
# # #