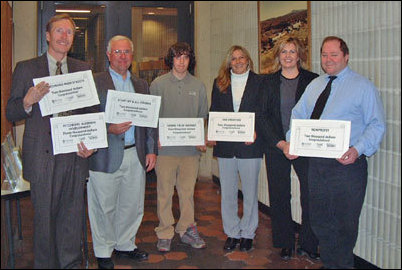 Through the continued support of our sponsors, we are able to expand the program this year to include three new special award categories, thereby increasing the cash awards
Leominster, MA (PRWEB) July 18, 2006
The Entrepreneurial Resource Center at Mount Wachusett Community College in Gardner, MA is accepting applications for its second annual Business Plan Competition. The competition, initiated last year to highlight, celebrate and stimulate the entrepreneurial spirit in North Central Massachusetts, is open to any start-up or growing business and nonprofit that is located or willing to locate within the college's service area.
The competition gives innovators in the business and community involvement sectors an opportunity to submit business plans and vie for up to $18,000 in cash prizes, as well as over $10,000 of in-kind services. One finalist will be chosen in each of the following four categories: start-up profit, expanding profit businesses, start-up nonprofits, and expanding nonprofit. A grand prize winner will be selected from among the four finalists. In addition, special awards will be given in the following categories: Gardner profit or nonprofit, Fitchburg profit and Community Builders profit or nonprofit volunteer program.
"We were delighted with the success of last year's Business Plan Competition and the interest it generated in spurring business growth and entrepreneurship in our region," said MWCC President Daniel M. Asquino. "Through the continued support of our sponsors, we are able to expand the program this year to include three new special award categories, thereby increasing the cash awards," he said.
"This competition provides a unique and fantastic opportunity for nonprofit and for-profit organizations to develop or expand upon their ideas," said Lisa Derby Oden, director of the Entrepreneurial Resource Center. "The winners of last year's competition have gone on to make tremendous strides in advancing their businesses," she said. The Grand Prize Winner, Speed-Demon, is a high-tech start-up that has developed a portable dashboard box that will enable parents to monitor the driving habits of their teenage drivers. The device records speed and GPS data and can be plugged into a PC loaded with Speed-Demon software, which uses Google's map technology, to allow parents to see what roads their teenager traveled and if they drove dangerously fast on any of them.
Speed-Demon has just been named the grand prizewinner of the National Federation of Independent Business YEF Competition. Speed-Demon president Jon Fischer will be a senior in high school this fall.
Prizes from the MWCC competition included a membership to the Incubator Without Walls at the Entrepreneurial Resource Center. Fischer learned of the NFIB competition as a result of the membership. "Winning the ERC business plan competition convinced me that I could really start my own Company. The prize money funded my patent application and startup costs. The continuing support and encouragement that I have received from Lisa Derby Oden and the staff of the ERC led me to enter the NFIB Young Entrepreneur Foundation, Plan for the Future competition for high school and college students. I won the Grand Prize at this event and just returned home from an all expenses paid trip to Washington DC with check for $7500 I am looking forward to using the resources at the ERC to further my business goals in 2006 and will be entering more business plan competitions this year."
MWCC established the Entrepreneurial Resource Center in 2004 in part through a $25,000 grant from The Coleman Foundation and the U.S. Association for Small Business and Entrepreneurship to initiate new business programs and to serve pre-startup, new and existing small businesses in North Central Massachusetts. The Business Plan Competition was chosen as a finalist from a field of 50 programs across the United States for the prestigious Bellwether Award. This award was presented at the Community College Futures Assembly in Orlando, FL in January.
Competition guidelines and applications are available at http://erc.mwcc.edu. All entries are due by Sept. 18, 2006. The Entrepreneurial Resource Center will provide business plan writing workshops June 7 through Aug. 16 to assist applicants with their proposals. Semi-finalists will be announced on Nov. 1, and the grand prize winner will be announced on Nov. 16 following public presentations and final judging.
# # #