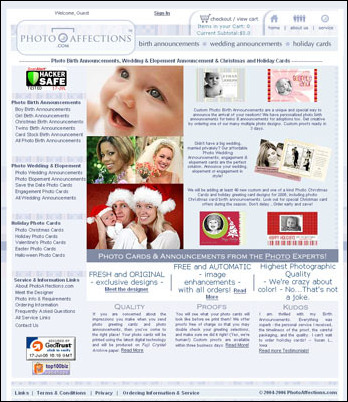 Midland, TX (PRWEB) July 18, 2006
A baby's birth announcement is not only a child's first formal introduction to the world, but it is also a cherished keepsake for family and friends. Such a highly regarded announcement deserves a product that is of the highest quality. And now, as a result of their recent agreement with InABabyCarriage.com, PhotoAffections.com is offering its customers just that—stylish and creative birth announcements.
The designer of the collection, Amber Gatej, created the line of photo baby announcements after the birth of her own daughter. Gatej saw that there was a lack of unique birth announcements and thus decided to create her own by using her formal education and professional experience in graphic design. She has been making these one-of-a-kind designs since 2002 and has made this exclusive agreement with PhotoAffections.com to enable more happy parents to celebrate the birth of a little one with her creative birth announcements.
The owner of PhotoAffections.com, Tony Gilbert, is thrilled with the new partnership and its potentials, "Through our agreement with InABabyCarriage.com, both parties are able to focus on their strengths and bring to the market stylish and custom products, at very competitive prices. Over time, Mrs. Gatej's focus will shift more towards creating unique and inspiring designs, while the associates of PhotoAffections.com will focus on manufacturing, order fulfillment and customer service."
The quality of their products and services are a priority at PhotoAffections.com. The company prides themselves on their attention to detail and style, since every order is processed individually as opposed to the automated route taken by most of their competitors. Gilbert elaborates, "Our services are intended to cater to those who desire stylish and high quality photo cards at a more affordable price. While our card designs and services are more 'template' based, our process is not fully automated. Rather, based upon the customer's initial input, every order is worked with individually, allowing us to accurately fulfill the customer's needs. Additionally, with the free proof service, the customer is assured that what they see, is what they'll get. Furthermore, unlike most other services, we utilize our years of experience in photo processing and image editing to improve the overall quality of every digital image that is submitted to us." The staff of PhotoAffections.com has a combined experience of over 60 years in the photographic and printing industry.
This new product line of creative birth announcements will be in addition to PhotoAffections.com's extensive offerings of high-quality photo cards that they manufacture in-house. Their other available categories include holiday cards, wedding and elopement announcements. PhotoAffections.com offers these photo baby announcements and others in design styles that range from classic to contemporary and from retro to "funky."
For more information on unique photo baby announcements, please visit PhotoAffections.com.
About PhotoAffections.com:
Began in 2004, PhotoAffections.com is an online branch of image services based in Midland, TX. The popular demand for high-quality holiday and announcement photo cards has led to the rapid growth of the website and its offerings. The owner, Tony Gilbert, personally has over 12 years experience in the photo finishing, graphic arts and printing industry; the combined staff has more than 60 years experience in photographic industry.
###