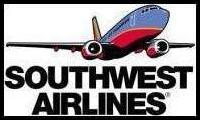 Dallas, TX (PRWEB) July 17, 2006
Southwest Airlines (http://www.southwest.com) will hold a combined media/analyst teleconference on its second quarter earnings at 10:30 a.m. Central time, Wednesday, July 19.
WHO: Gary Kelly, Chief Executive Officer and Vice Chairman and Laura Wright, Senior Vice President and Chief Financial Officer.
WHAT: Southwest (NYSE: LUV) is inviting the media to ask questions of Mr. Kelly and Ms. Wright about the airline's earnings for the second quarter of 2006.
WHERE: Mr. Kelly and Ms. Wright will be taking media calls from the offices of Southwest Airlines Corporate Headquarters.
WHEN: Wednesday, July 19, 2006. The call will begin promptly at 10:30 a.m. Central time.
HOW: Those interested in participating in the Teleconference should dial (800) 289-0743, no password needed up to ten minutes prior to the 10:30 a.m. start of the call. Please ask to be connected to the Southwest Airlines conference call.
OTHER INFO: During the analyst portion of the call, media will be in a listen-only mode. Once the industry analyst Q&A portion of the call is completed, media will be instructed on how to ask questions.
CONTACT:
Public Relations of Southwest Airlines
1-214-792-4847
###