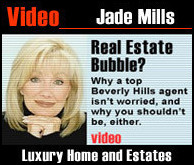 The slowdown in sales appears to be most noticeable in the move-up category
Beverly Hills, CA (PRWEB) July 21, 2006
Beverly Hills People launches it online video interview series with Jade Mills.
"The real estate market has taken a hiccup, but it's still very strong," states a top Beverly Hills realtor,Jade Mills, in a Beverly Hills People.com video interview.
Visitors to Beverly Hills People can view the entire interview where Jade addresses the myths about the real estate bubble in the luxury home market and the surprising opportunities to be found right now.
"The market was in a frenzy. Homes were overbid," Mills says and then suggests how the market is still a strong market, but selling at the right price instead of an inflated price.
Jade Mills' comments also reveal an overlooked fact lost in current market fears: prices are still going up in many locales. Mark Prentice agrees.
"The slowdown in sales appears to be most noticeable in the move-up category," stated Prentice, who is the president of DataQuick Information Systems, the leading provider of real property and land data in the U.S.
"Entry-level and mid-market homes are not seeing as much of a sales slowdown, and prices are still going up, although at a slower pace," said Prentice on his firm's website. Additionally, rising interest rates are also impacting the pool of available buyers.
While places such as Las Vegas, Miami, and San Diego are slower than elsewhere, these towns retain a strengthened job and economic outlook which is the basis of any strong real estate market.
Marty Halfon, founder of the luxury real estate website BeverlyHillsPeople.com likens the current real estate market and coinciding fears about a market bubble to a speeder exceeding the speed limit.
"If I was doing 60 MPH in a 30 MPH zone last year, but now I'm cruising at 40 MPH, can you say I really am slowing down?" Halfon asks. Halfon agrees that the slowing market is actually steadying itself, not falling.
Halfon and Beverly Hills People are conducting a series of interviews featuring luxury home agents from around the country that he hopes will balance the negative news about the market.
"We believe this series of interviews will help provide valuable information from real estate agents who are on the playing field and can help provide the real facts of where the real estate market is headed," Halfon continued.
Visitors to the Beverly Hills People home page may view Jade Mills' entire eye-opening interview and are also encouraged to visit Beverly Hills People's Luxury Homes and Estates pages that list over 1.5 billion in luxury homes from around the U.S. and the rest of the world.
###