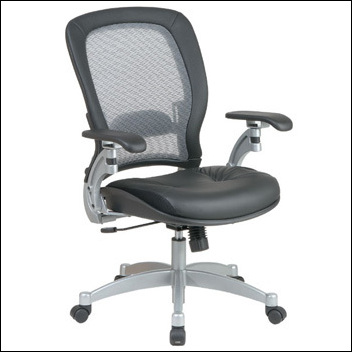 Beautiful Offices at Affordable Prices®
(PRWEB) July 20, 2006
National Business Furniture today announced the launch of OfficeChairs.com, a website providing high-quality office chairs for every office. The launch of OfficeChairs.com allows National Business Furniture to bring its operational expertise and over 30 years of experience to the online industry for office chairs. OfficeChairs.com is committed to providing customers the best online experience through the convenience of one-stop shopping combined with unbeatable customer service and low prices.
OfficeChairs.com offers a huge selection of high-quality office chairs suitable for every corporate or home office. The selection of chairs includes computer chairs, ergonomic office chairs, leather office chairs, big and tall office chairs, drafting chairs and stools, stacking and folding chairs, 24-hour office chairs, mesh office chairs and reception chairs. OfficeChairs.com offers free delivery within the contiguous United States on all office chairs and most are in stock for prompt shipments. Every chair is also covered by an exclusive three-year guarantee.
OfficeChairs.com offers free color swatches to help the decision-making process. Products are easy to find and purchase, and furniture specialists are available via the phone to answer any questions. In addition, design specialists are available for those interested in office layout and design advice.
About OfficeChairs.com
OfficeChairs.com is a National Business Furniture company. National Business Furniture, located in Milwaukee, was founded in 1975 as a catalog business to provide "Beautiful Offices at Affordable Prices®" to corporate offices and government agencies. Since then, National Business Furniture has expanded into the school, church and home office markets through three separate catalogs, six websites and an experienced sales team with regional sales offices in New York, Chicago, Los Angeles, Atlanta, Dallas, and Milwaukee.
In January 2006, National Business Furniture was acquired by K + K America, LLC, the leading group of business-to-business mail order companies for business equipment solutions in North America.
For more information, go to http://www.OfficeChairs.com. Visit any of the National Business Furniture family of brands for a complete selection of computer desks, executive office suites and traditional office furniture such as file cabinets, bookcases, reception furniture and office tables: http://www.OfficeFurniture.com, http://www.NationalBusinessFurniture.com, http://www.FurnitureOnline.com, http://www.AlfaxFurniture.com, http://www.DallasMidwest.com.
Contact: Cindy Blue, 414-276-8511
# # #