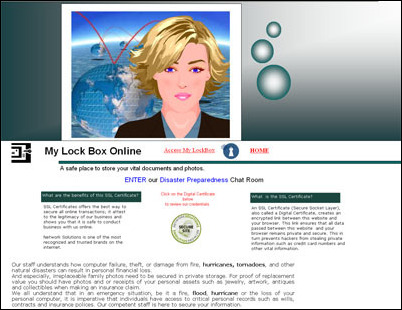 It is as easy for the subscriber to use our service as sending an e-mail and as secure as doing an electronic bank transaction
Shawnee, KS (PRWEB) July 31, 2006 –-
Safeguarding vital documents as part of disaster recovery planning has become much easier with the launch of MyLockBoxOnline.com. The site allows users to maintain images of wills and contracts, insurance policies, photos, and other documents that may urgently be needed in cases of natural disaster damage.
MyLockBoxOnline.com is unique because anyone with e-mail can add this service to a comprehensive natural disaster preparation plan. "It is as easy for the subscriber to use our service as sending an e-mail and as secure as doing an electronic bank transaction," says owner Diane Marvine, who has more than 25 years of computer data disaster recovery experience.
No one is immune to the possibility of disaster caused by flood, fire, hurricane, tornado, or another devastating event, so federal, state, and local governments have urged everyone to develop effective disaster recovery plans.
"We all understand that in an emergency situation, be it a fire, flood, hurricane or the loss of your personal computer, it is imperative that individuals have access to critical personal records such as wills, contracts, and insurance policies," says Marvine. "Our competent staff is here to make it fast and easy to secure your vital information."
While many may never have to experience a natural disaster firsthand, any computer owner can suddenly be affected by a hard drive crash and eventual disk drive failure. Even more prevalent is the threat of computer theft; an overwhelming 2,000 computers are stolen every day in the United States, alone. Should a computer owner be affected by the elements, hard drive failure or theft, MyLockBoxOnline.com can ensure the protection and security of important personal and business information.
MyLockBoxOnline.com also provides free tools including a Personal Information Form, Vital Documents Checklist, and Household Inventory Form. Natural disaster preparation such as securing vital documents can make the process of accessing natural disaster relief benefits much less time consuming and burdensome.
Some of the best features of MyLockBoxOnline.com include the extreme ease of use, privacy, security, and access from anywhere in the world. Users pay a one-time cost depending on the number of documents they choose to store and a low annual renewal fee. Users also can upgrade for more capacity as they add documents and photos to their virtual lockboxes.
Disaster recovery plans are critical to maintaining financial stability when disaster strikes, and MyLockBoxOnline.com makes this important step easy, affordable, and convenient for everyone.
About MyLockBoxOnline.com:
MyLockBoxOnline.com is wholly owned by Grace Systems Inc., which provides advanced information systems development including information protection and storage. The company has a proven record of comprehensive consulting solutions, along with the expertise and experience to address complex information challenges such as advanced systems development, regulatory compliance, and disaster recovery. Founded in 1996 Grace Systems Inc. is a trusted partner to Fortune 500 corporate clients. More information is available at http://www.GraceSystems.com.
###