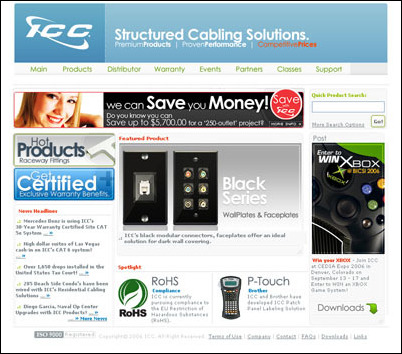 Cerritos, CA (PRWEB) July 20, 2006
Those in the telecommunications industry know that the premier show for residential electronic systems is the CEDIA Expo. ICC will be showing their new NetMedia(tm) Center product line, and more at this year's #1 residential electronic systems industry show in Denver, CO in September.
The CEDIA Expo draws a crowd of over 30,000 industry professionals from 100 countries that are all there to see the latest and greatest in home cabling installation, home automation equipment, and more. Along with the ideas and innovations of its exhibitors, the show will also have certification and education opportunities for attendees.
ICC has been providing structured cabling solutions, fiber optic systems, cable management supplies, and more to both the commercial and residential market for over 20 years. Doug Holland of ICC highlights, "Since 1984, ICC has been recognized as a leading manufacturer of commercial and residential structured cabling products. As an ISO 9001:2000 company, ICC is continuously taking steps to further provide products of unparalleled quality, performance and affordability. ICC products are known for ease of installation, competitive market pricing, and high reliability. ICC is your advantage to realize better profit margins, submit lower bids, win more projects, and gain the Competitive Edge."
The company also has an easy to navigate website at ICC.com. Their inventory is extensive, yet easy to browse through according to category and need throughout the website. Providing a broad offering is just one of ICC's goals for their customers. They also offer affordable products for contractors. Holland elaborates, "ICC has been helping tens of thousands of contractors grow and profit. ICC is committed to offer premium quality at affordable prices so the contractors can provide high quality installations to their customers and still earn a profit. With millions of voice, data, and audio/video drops installed across thousands of enterprises nationwide, ICC continues to meet the evolving demands for structured cabling solutions by offering premium products, proven performance, and competitive pricing."
For more information on ICC structured cabling solutions, and installer certification, please visit ICC.com.
About ICC:
ICC is the solution that contractors go to for quality, performance, and reliability at affordable prices. They offer complete installation requirements for commercial and residential projects.
###