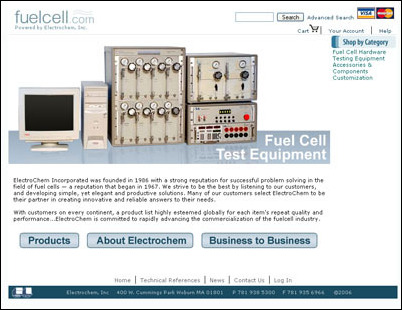 ElectroChem is about innovation and accuracy. We develop innovative technical solutions for complex situations and use innovative business practices.
Woburn, MA (PRWEB) July 24, 2006
Now it is easy to obtain the same fuel cell test equipment used by NASA. ElectroChem has just announced that they will be accepting orders online at their flagship subsidiary, FuelCell.com. The pioneering leader in the industry is offering not just standard fuel cell technologies, but also custom made products to suit any researcher or developer's needs.
This attention to their customer's specific needs is a driving standard behind the experienced company. ElectroChem has 40 years experience in fuel cell technologies, with 20 years in manufacturing and sales. They are the proud owners of several patents that can attest to the innovative capabilities of ElectroChem and its fuel cell test equipment.
In fact, innovation is what defines the company as a whole. President and owner, Radha Jalan, highlights, "ElectroChem is about innovation and accuracy. We develop innovative technical solutions for complex situations and use innovative business practices." Jalan is also quite impressive in her own right. Among her many awards received in the industry are the MA High Tech Energy Star and the Asian Business Woman of the Year. She is a member of the MA Hydrogen Coalition and has been running ElectroChem since 1992.
Jalan's rich history of expertise is combined with her colleagues to make predictable high quality fuel cell test equipment available for developers and researchers worldwide. It is of impressive note that ElectroChem has researchers and customers on every continent. These customers rely on ElectroChem to bring them the best, whether it is test stations or customized substrates and electrodes or stacks. Jalan recognizes the need for these precise and reliable materials for the testing environment, "We deliver reliable products which meet our customer's exacting standards for predictability and high quality."
And now, with the unveiling of FuelCell.com, the largest supply of fuel cell components and testing equipment is available to purchase easily and securely online. Their easy-to-use website features helpful functions for shopping online, like an advanced search option to help a customer locate exactly what they need quickly. Their large inventory is divided coherently into simple categories—Fuel Cell Hardware, Testing Equipment, Accessories and Components, and Customization. A visitor may shop by the "Products" route for individual equipment or there is also a "Business to Business" section for commercial orders. Along with their product line, FuelCell.com also features informative pages that tell the history of ElectroChem, a collection of the company's news stories, and conveniently downloadable PDF files of any technical reference papers that they have released.
For more information on fuel cell technologies or to peruse ElectroChem's catalog online, please visit FuelCell.com.
About ElectroChem:
A pioneer in the commercial fuel cell testing industry, ElectroChem has been serving its customers for 20 years and counting. They specialize in both standard and custom fuel cell research components for serious developers and researchers.
###