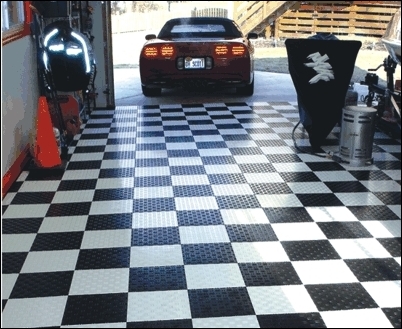 Palm Desert, CA (PRWEB) July 21, 2006
Swisstrax Inc., supplier of advanced interlocking floor tiles and garage floor products continues its growth and is proud to have provided their top quality product to the following clientele.
They have recently worked with Hendricks Motorsports, owner of several well known racing teams, in providing flooring for on-site use at racing events. XV Motorsports, as seen on television's Dream Car Garage, is also in process of bringing in several thousand square feet of the Ribtrax style tiling for display of their luxury auto accessories. In addition, according to Swisstrax LLC President and Owner Randy Nelson, BMW of North America is working with Swisstrax on a plan to outfit their dealerships with the flooring to showcase their cars. Other dealerships are currently working with Swisstrax LLC, and local distributor Owner Mike Astle of Empire Swisstrax. The two business partners, who share an office, showroom and warehouse in Palm Desert, are coordinating efforts to provide Volkswagen and Mini Cooper dealers with similar display pads for presentation of their autos.
Swisstrax has been servicing both residential and commercial users for garage floors, patios, aircraft hangars, show booth floors and showrooms for 15 years in Europe and now 2 years in the United States. Recently, this modular and garage flooring has been seen at several trade and industry shows, including boat shows; client Paradise Marine displays their boats and yachts on show floors up to 2500 square feet. XV Motorsports is also using the product for presentation of their auto accessories at shows.
Upcoming shows where Swisstrax will be displaying include SEMA (Specialty Event Marketing Association) in Las Vegas 10/31/06-11/03/06 and PRI (Performance Racing Industry) in Orlando, Florida Dec. 14-16, 2006.
New products Swisstrax is bringing to the market in the next few months include Teaktrax, a wood interlocking tile best for patio and deck applications and Floortrax, a tile similar to the Diamondtrax tile already in production, but with a smooth "epoxy-looking" profile, which is good for garage floor and indoor applications.
Remember – Swisstrax, Inc., for the next generation of floor covering. Swisstrax interlocking floor tiles are the ultimate solution for cracked, chipped or stained concrete floors. Great for garage floors, patio floors, convention flooring, pool areas, or anywhere you need an attractive alternative to concrete floors.
77-770 Country Club Drive, Unit C
Palm Desert, CA 92211
# # #