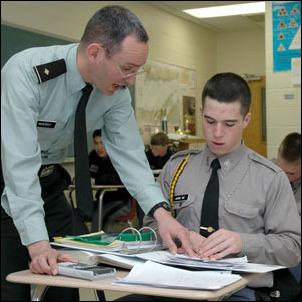 At no time was Fork Union on a 'not cleared' list
Fork Union, VA (PRWEB) July 22, 2006
The National Collegiate Athletic Association has affirmed that grades, graduation and core courses from Fork Union Military Academy will continue to be used in the NCAA initial eligibility process for student athletes entering college on athletic scholarships.
"At no time was Fork Union on a 'not cleared' list," explained Kevin Lennon, NCAA Vice President for Membership Services in a statement released today. "Rather, the NCAA had specific areas of concern to address with Fork Union and the school subsequently provided satisfactory responses."
Fork Union Military Academy's President, Lt. General John E. Jackson, Jr. responded to the swift resolution of the NCAA's inquiry, saying, "Our results speak for themselves. Thousands of students over many generations have improved their academic performance at FUMA by learning the value of focus, self-discipline, and personal accountability."
Unlike most high schools, where students juggle four, five, or more classes each day, Fork Union students follow a unique One Subject Plan schedule. The Academy's school year is divided into five seven-week terms. During each term the cadet studies one major subject, such as English, History, or Algebra I. All assignments and tests come in this one course from the same teacher, and that teacher is able to focus all of his or her attention on the current class of students, and no others, for the entire seven-week term. By the end of the academic year, students will have completed an intensive study of five core courses with as many or more hours of classroom instruction as that provided under a typical school schedule.
Fork Union Military Academy requires students to be at their desks engaged in study for two hours each school night. This study time, known as "CQ" for "Call to Quarters" is closely supervised by faculty officers.
"While my son's academic about face is nothing short of miraculous," said Barbara Wright of Purcellville, Virginia, parent of a Fork Union student, "there is no doubt in my mind why he has been on the Honor Roll or Dean's List every term for the two years he has been at Fork Union after routinely earning below average grades in his previous school. It's because of CQ. At Fork Union, with only one subject at a time and less than 15 cadets per class, each instructor knows exactly who is spending their CQ time constructively."
Fork Union Military Academy has established a national reputation for an athletic program that has produced two Heisman Trophy winners, at least six NBA players, and more than 70 players in the National Football League. The school's academic program is no less remarkable. Eddie George won the Heisman Trophy as a football player at Ohio State University, but Academy officials are quick to point out that Edward Jennings, another FUMA alumnus, served more than ten years as the President of Ohio State University.
"The success of this school is measured in the achievements of its alumni," said General Jackson. "From Kansas City's legendary mayor, Roe "The Chief" Bartle, for whom the city's NFL team is named, to Virginia's current Secretary of Agriculture, Bob Bloxom; from Sergeant Earle Gregory, first Virginian to earn the Congressional Medal of Honor, to General John Chain, former Commander in Chief of the Strategic Air Command; from Tom Davis who founded Piedmont Airlines and Ed Telling, the visionary CEO of Sears, Roebuck, to Kevin Plank, the founder of UnderArmour. As we say at FUMA, success stories begin here."
"We want to thank NCAA officials who visited our campus, Ms. Jennifer Strawley and Ms. Diane Dickman, for their professionalism," said General Jackson. "Also, I want to thank and commend the staff and faculty of our fine Academy for their hard work and devotion to the boys entrusted to our care. "We put our trust and faith in the Lord and we were not disappointed."
For more information, please visit: http://www.ForkUnion.com.
# # #