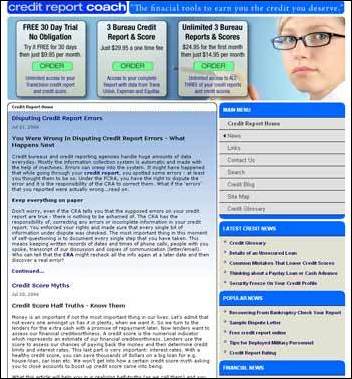 Salt Lake City, UT (PRWEB) July 25, 2006
In an effort to promote user awareness, credit report advocates Credit Report Coach are launching the largest on-line credit glossary available.
Most consumers do not work in the credit industry making it baffling to try to decipher all the jargon and lingo utilized by lenders and creditors in discussing your personal finances. Life altering decisions are made by lenders on the fluctuation of consumers credit score. In the spirit of advocating knowledge as power the credit glossary offers an A-Z reference of credit and personal finance terms. Thus allowing the consumer to actually understand and make informed financial decisions.
Being better informed about credit will help the consumerr in preparing and guarding thier financial future. If there is the prospect of a large purchase on the horizon consumer's will benefit substantially and sleep better at night with a thorough understanding of what is happening with thier finances. This comes in having an understanding of how various factors effect the consumers credit score.
So with this comprehensive glossary as a reference take a new look at your credit report and learn what those abbreviations and terms mean. Giving the consumer the tools and knowledge to chagne thier credit scores for the better, and earn the credit they deserve.
Credit Report Coach believe's in creating a positive impact on people's lives and what better way than helping consumers understand uncommon terms that find a way into thier lives. As a consumer everyday you will come across hundreds of new terms related to credit and related information. With this glossary section, now you don't have to leave it to chance.
# # #