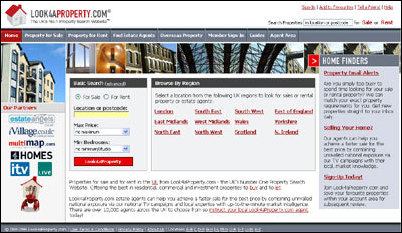 We are also exploring other avenues of 'traditional' marketing, including advertising on the National Rail Network, London Underground, Buses and a fleet of Mini Cooper S Cars which travel up and down the UK
London, UK (PRWEB) July 26, 2006
Look4aProperty.com , a new multi-million pound UK property portal, is pleased to officially announce it is now live on the World Wide Web after two years of development.
Look4aProperty.com's founder, Aaron Turner, has been delighted with the early response and uptake from estate agents in the UK. He says that Look4aProperty.com is the clear alternative now for all UK estate agents who are fed up with paying large monthly fees at other major property sites.
"We wanted to prove unequivocally to all UK estate agents that they do not need to keep paying other portals over £300 a month per Sales & Lettings Branch," Turner says. "Our service is free to all UK estate agents for the first six months, and then it's just £49 a month per branch thereafter. It has taken us over two years and over £1m to design and build Look4aProperty.com. We know that technically Look4aProperty.com is more than a match for any of our major competitors, and the feedback we have had from both estate agents and Web site users looking for property and has been overwhelming."
Turner and others at Look4aProperty.com have been planning their intensive marketing strategy whilst building the property portal. Unlike the other major UK property portals, Look4aProperty is not owned by a national media group nor is it quoted on the London Stock Exchange. "This has given us great freedom to run our business as we see fit," Turner says. "We can decide how and where we will spend our extensive marketing budget without intervention."
Turner says the company is investing a staggering £40m over the next four years on TV advertising alone because he sees this as a key means of launching and then growing the brand. TV advertising helps to win Look4aProperty.com's estate agent members new property instructions and it also helps to market their properties generally.
Look4aProperty.com has invested a large, ongoing budget in online advertising via established routes such as Google AdWords. The company has also employed a large team of highly experienced search engine optimisation experts whose only goal is to constantly improve the number of visitors coming to Look4aProperty.com from the major Internet search engines.
"We are also exploring other avenues of 'traditional' marketing, including advertising on the National Rail Network, London Underground, Buses and a fleet of Mini Cooper S Cars which travel up and down the UK," Turner says. In addition, the company will advertise across a wide range of dedicated property journals and Magazines.
"Our well thought-out and effective product as well as our large and varied marketing plan has helped to propel Look4aProperty.com into the marketplace with vigour," Turner says. "With well over four million visitors since the launch and traffic figures that are growing day by day we are ecstatic with the response we have received so far. With our new Overseas Property directory due to launch late this summer and a very exciting range of new and innovative products in development we are extremely excited about the future."
For further information, please contact:
Aaron Turner
Look4aProperty.com
26 York Street
London, W1U 6PZ, United Kingdom
T: 08712 77 08 32
F: 08712 77 08 31
# # #