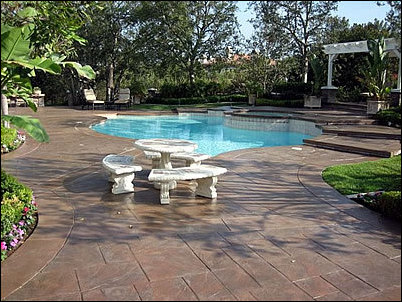 Decorative concrete is one of the hottest trends today
Yucaipa, CA (PRWEB) July 27, 2006
The Concrete Network, the largest and most comprehensive source for concrete information anywhere in the world, today revealed that Houston is the busiest metropolitan area in the United States for decorative concrete services. The data illustrating this trend, is derived from Web site data from The Concrete Network, which generates over 800,000 visitors per month, much more than any other site in the field. These statistics are useful to contractors, manufacturers and others in the industry who want to know where decorative concrete is booming.
The Houston-Sugar Land-Baytown, Texas metropolitan continues to be an area of growth in the housing estate and business development markets. Considered the seventh-largest metropolitan area by the U.S. Census, the area consists of several counties within the state, and with homeowner spending on the rise, its no wonder that Houston is quickly setting the pace for decorative concrete in the United States.
Another attribute that has led to the continuing rise in the popularity of concrete applications is the climate and temperature of the area. Year-round temperatures average from the mid 60's in the winter to the 90's in the summer months. Because of its coastal climate and warmer weather contractors have the opportunity to work year-round, making the summer months great for planning and the winter months great for working, coinciding with the building trends in the area.
"Decorative concrete is one of the hottest trends today," said Jim Peterson, CEO of The Concrete Network. "The more understanding that a contractor has about what consumers are spending big money on, the more successful they will be. That's why we supply this valuable data to the market."
Decorative concrete is a versatile and cost effective application comparing favorably to other home improvement options, such as granite, slate, brick, etc. The colors, patterns, and styles available with decorative concrete are nearly limitless. Applications such as stamped concrete, stained concrete, concrete overlays, engraving, concrete countertops, and polishing are just a few of the many ways homeowners, builders and designers are taking advantage of the versatility of decorative concrete. For examples of all that decorative concrete has to offer, visit The Concrete Network's extensive online photo gallery.
Established in 1999, The Concrete Network's purpose is to educate consumers, builders, and contractors on popular decorative techniques and applications including stamped concrete, stained concrete floors, concrete countertops, polished concrete, and much more. Over 872,000 visitors researched The Concrete Network Web site in June, 2006.
The site excels at connecting buyers with local contractors in their area through its Find-A-Contractor service. The service provides visitors with a list of decorative concrete contractors throughout the U.S. and Canada, and is fully searchable by 22 types of decorative concrete work and 199 metropolitan areas throughout North America.
Release image courtesy of SuperKrete Products. Attached photo courtesy Colormaker Floors.
###