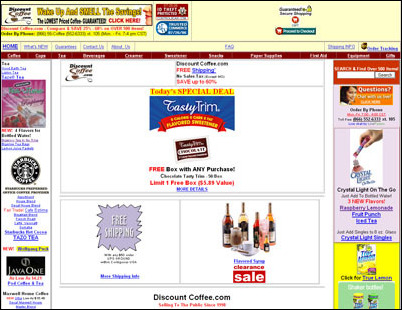 Diabetes is more of a concern today, and with Bigelow™ Tea In No Time™ being sugar-free, it's a refreshing drink alternative for those affected.
Lake Saint Louis, MO (PRWEB) July 27, 2006
These days, more and more people are trying to achieve their goal of 8-10 glasses of water a day. The mere fact that bottled water is the highest selling drink in the beverage industry, with sales exceeding $20 billion, can attest to the worldwide thirst for water. But while the health-conscious are driven to buy more water, they are simultaneously looking for ways to spruce it up. DiscountCoffee.com is now the first in the world to offer the latest bottled water "enhancement" product online— Bigelow™ Tea In No Time™.
The new product line is a small packet that is opened and added to a regular bottle of water to give the normally boring water a refreshing brewed iced tea flavor. The Bigelow™ Tea In No Time™ line comes in four flavors: Raspberry Tea, Peach Tea, Green Tea with Honey and Lemon, and Bigelow™ Original Tea. They are sugar-free and only contain between 0-5 calories per serving.
The new product has a lot of uses for a variety of people. Military personnel can use the small and easily portable packets to improve the taste of canteen water. Dieters can add the packets to water bottles in order to not sacrifice flavor when switching from high-calorie soft drinks to water. And people with diabetes can have the sweet water enhancement without the dangerous sugar. DiscountCoffee.com founder Kirby Newbury points out, "Diabetes is more of a concern today, and with Bigelow™ Tea In No Time™ being sugar-free, it's a refreshing drink alternative for those affected." Also, people that just want to make their daily dose of water less boring can use the product like DiscountCoffee.com founder Cherri Newbury does, "While exercising at my Curves Class, I usually have a bottled water at hand. Adding Bigelow™ Tea In No Time™ to my water, makes a perfect refreshing drink. I love the Green Tea with Lemon."
DiscountCoffee.com, an online coffee break services provider, is carrying the new product line from Bigelow™ before any grocery store or online gourmet coffee and tea supplier. The Internet Office Coffee Service company is no stranger to being the first to make a product line available to the public. DiscountCoffee.com was also the first in the world to offer the popular Crystal Light™ On The Go for coffee break services. With over 500 gourmet coffee and tea and break room supplies, DiscountCoffee.com is often compared to the Sam's Club or Office Depot of stores selling office coffee break supplies. They offer brand name products with no sales tax (except in MO), same day shipping world wide and free UPS ground shipping for orders over $50 within the contiguous USA, and up to a 60% discount compared to a traditional standard coffee service. The company is the pioneer of the Internet Coffee Service Industry and they are a certified BizRate Merchant. They are the first (began in 1998) and largest pure play internet office coffee service.
For more information on Bigelow™ Tea In No Time™ or other gourmet coffee and tea supplies, please visit DiscountCoffee.com.
About DiscountCoffee.com:
Founded by Kirby Newbury and Cherri Huffman Newbury in 1998, DiscountCoffee.com is the largest world wide distributor of office break room supplies online. The Newburys have over 50 years of experience in food and beverage distribution, the Office Coffee Service Industry, and e-Commerce Retail.
###