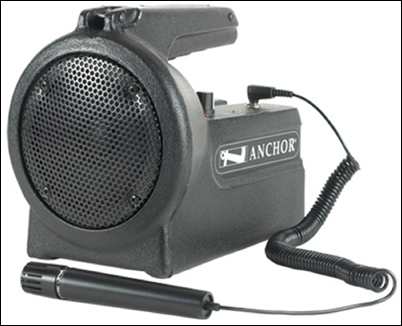 Ensuring the safety and security of our transportation system is now first and foremost
Torrance, CA (PRWEB) July 26, 2006
In fulfilling its responsibility to provide fail-safe communications to passengers during times of power outage or other emergency events, the Netherlands Railways recently purchased 110 additional MINIVOX portable PA systems to expand upon last year's successful placement of 65 units within public transit stations throughout the Netherlands. These handheld portable public address systems help ensure passenger security by providing a quick and effective means of directing stranded riders to areas of safety.
With 2000 kilometers of electrified railway and 463 trains, Netherlands Railways (Nederlandse Spoorwegen -- NS) has addressed an issue that now impacts transit operators throughout the world. "Ensuring the safety and security of our transportation system is now first and foremost," said Norman Y. Mineta, secretary of the U.S. DOT, when commenting on the post 9-11 atmosphere at a national convention of transportation officials.
Recognizing the mission critical need for communications during terrorist attacks or other emergencies, officials at NS sought a portable sound system powerful enough to be heard over a crowd of panic-stricken passengers.
"NS needed something like a megaphone, but they also wanted the loudspeaker away from the face of the user so that he or she could see what was going on," recalls Rob Rutten, a manager with Eurocase Audio & Media Products in 's-Hertogenbosch, Netherlands -- a distributor of audio and security products. "They also needed a strong SPL (sound pressure level). So we provided them a demo Anchor Audio MINIVOX portable PA system, and they felt it delivered on both counts."
Manufactured by Torrance, California-based Anchor Audio, Inc. -- a recognized U.S. leader in manufacturing portable public address systems -- the MINIVOX unit reaches crowds of 150 or more with 108 db (at 1 meter) of sound with its rated power output of 15 watts. The compact size (8 x 6.5 x 9.5" or 20 x 17.5 x 24 cm) and light weight (5.5 lbs or 1.4 Kg) make it particularly apt for emergency situations where maneuverability by the user is called for. Since this portable sound system accepts a handheld, lapel, headband or wireless microphone, the user can maintain his or her field of view while freeing up one or more hands.
"The ample power for its compact size, the fact that users don't have to hold a megaphone up to their face, and the quality of the sound contributed to Dutch Railways' decision to purchase more MINIVOX portable public address systems," noted Rutten. "With its wide frequency response (100 Hz-12 kHz), passengers can clearly hear any important instructions offered by the emergency personnel.
"The other thing that appealed to NS was the build quality and sturdiness of the portable sound system package, which Anchor Audio specially produced to match the yellow color of the NS rail cars," continued Rutten. "Of course, the six-year warranty added to the belief that these self-contained portable public address systems would provide reliable service for a long time."
Officials at Dutch Railways indicated an intent to eventually equip all stations with MINIVOX portable public address systems to bolster security throughout its transportation network.
Anchor Audio, Inc.
Debbie Lombard
Phone: (310) 784-2300
Fax: (310) 784-0066
###