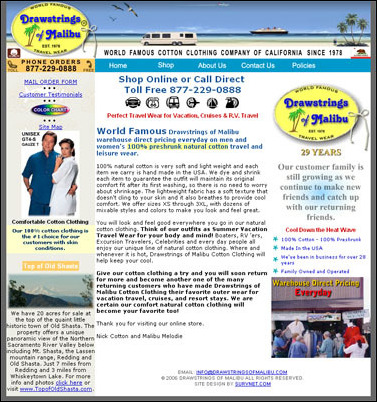 feels good and looks good.
Shasta, CA (PRWEB) July 27, 2006 -—
A growing trend amongst American vacationers is traveling in the fall season, as recently reported by a number of travel agents nationwide. People have started traveling more during the months of September- November due to the cooler weather, lower prices, and fewer crowds at popular resorts. Drawstrings of Malibu, a long time supplier of comfortable travel wear clothing to customers in the U.S. and Canada, are having the Grand Opening of their online store at DrawstringsofMalibu.com just in time for fall travelers to shop before their big vacation.
Nick and Melodie Morrone, the owners of Drawstrings of Malibu, have been outfitting their customers with 100% pre-shrunk, natural cotton comfortable travel wear clothing, beach wear, and even tai chi pants and tops since 1978 out of their storefront in Malibu, CA. The couple is thrilled with their new online endeavor, as it will enable them to expand their already happy and loyal customer base. Melodie Morrone highlights, "After years of hands on customer service, we have learned to listen to our customers' wants and needs to help us accommodate their request. As a result, we have hundreds of happy repeating customers while continuing to enjoy a steady stream of new customers. We work hard to continue to pay attention to the quality and customer satisfaction."
Nick Morrone sees their successful company history as an advantage with their new online store, "DrawstringsofMalibu.com is secure and user friendly with the same customer service found in their mobile store. Our online store is backed by 29 years of experience as well as knowledgeable and friendly customer service. Our customers' security and privacy is of the highest importance. DrawstringsofMalibu.com is also backed by 24/7 merchant technical support."
Drawstrings of Malibu offers a large selection of stylish and easy-to-care-for comfortable cotton clothing. Their product line has been highly popular with boaters, the RV crowd, world travelers, celebrities, and yoga enthusiasts. With a range of sizes from XS petite and regular to 3XL petite and regular, it is easy for almost everyone to find the size that fits. Men and women can find 100% natural cotton vacation travel and leisure clothing, yoga wear, or tai chi pants and tops at DrawstringsofMalibu.com. They emphasize the fact that just because their leisure cotton clothing is comfortable and requires little maintenance, doesn't mean that style is left behind. One of the reasons that the store has been so successful is because of the style and class of the comfortable line of travel wear clothing. Drawstrings of Malibu sells clothing that both "feels good and looks good."
The Morrones also note that their cotton apparel is a favorite for people who suffer from skin conditions. The breathable material makes a considerable difference in the comfort level of those who are affected by allergies or skin conditions. It is also recommended clothing for air travel.
For more information on comfortable travel wear, leisure wear, tai chi pants, and more, please visit DrawstringsofMalibu.com.
About Drawstrings of Malibu:
Began in 1978, Drawstrings of Malibu started with Nick and Melodie Morrone, one dress, and 3 feet of floor space in Malibu, CA. The local popularity of their clothing caused the business to rapidly grow to offer full lines of men's and women's cotton clothing to their loyal customers worldwide.
###