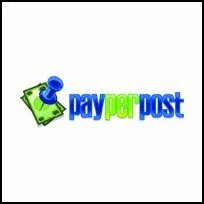 Our bloggers aren't just posting to their blogs. We are seeing videos pop up on YouTube and Google Video as well
Orlando, FL (PRWEB) July 31, 2006
PayPerPost.com, The Consumer Generated Advertising Network, announced today that it has successfully completed its first payments to bloggers who have participated in the company's blog advertising service. PayPerPost launched a heated debate last month when it announced it would pay bloggers in exchange for writing about products and services. Bloggers get paid to blog about "opportunities" created by advertisers, ranging from consumer electronics to travel destinations. Thousands of bloggers and hundreds of advertisers flocked to the service in the initial month, creating a plethora of opportunities for bloggers to make money.
The site requires that each blog advertising post remain live for 30 days prior to payment. The bloggers who made posts in the first few days began receiving payment this weekend. "We are absolutely thrilled with the success we have seen in the first month," commented Ted Murphy, founder and CEO of PayPerPost. "Despite the controversy, our service has taken a strong hold with both advertisers and bloggers. We have received wonderful feedback that has helped us shape the future of PayPerPost.com and I am very excited by the progress we have already made."
PayPerPost reports that many bloggers have earned hundreds of dollars in the first few weeks of the service. On average bloggers are generating about $50 per week blogging about PayPerPost opportunities, making upwards of $20 per individual blog posting. In addition to simple blog postings, PayPerPost advertisers have been experimenting with video and audio opportunities as well.
"We have had tremendous success with multimedia opportunities," said Murphy. "You could spend $100,000 and have 10,000 unique viral videos produced by consumer content generators. The potential for branding and advertising is enormous."
While blog advertising on an individual's blog has been the primary use of the service thus far, PayPerPost says the content created by the advertising network has spread. "Our bloggers aren't just posting to their blogs. We are seeing videos pop up on YouTube and Google Video as well," stated Murphy. "Our bloggers earn more money for video posts and our advertisers get greater exposure."
Still in Beta, the network is planning to offer additional multimedia support in the coming weeks. Advertisers and bloggers can sign up for the service at http://www.payperpost.com.
###