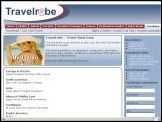 the capital of the world.
London, United Kingdom (PRWEB) July 30, 2006 -
Take a bite out of the Big Apple this summer with Travelrobe.
New York City is the most beguiling city in the world, you could spend weeks in the big apple and still barely scratch the surface
Even the pope visited New York and called it "the capital of the world." The city under former Mayor Rudy Giuliani has flourished with remarkable decreases in crime and a revitalized economy that has helped spur the tourism industry to some of its best years ever.
While the events of September 11, 2001, which demolished the World Trade Centre, shook New York to its core, the populace responded resiliently under the composed aegis of Giuliani, the city now seem cleaner, safer, and more liveable and the quality of New York and its people shines as brightly as it ever did.
Travelrobe is recommending a visit to the Big Apple and offers a few tips on places to visit and you can book your travel through Travelrobe
Grand Central Station
Central Park
Chinatown
Statue of Liberty
The Diamond District
Ground Zero
42nd Street
Rockefeller Centre
Radio City Music Hall
Brooklyn - Bronx - Queens
Tours on water - A great way to see the island of Manhattan is on the Circle Line ferry (tel 212/563-3200, http://www.circleline.com ).
New York's shops cater to every possible taste, in any combination and in many cases at any time of the day or night. they're a great reason for visiting the city, many of the oddest and oldest stores are still around and nothing beats discovering a quirky, independent shop that may specialize only in vintage cufflinks or a one off ladies handbag.
Caribbean, Central and South American restaurants are on the rise in New York and offer good satisfying meals, there is also a whole range of Eastern European restaurants Russian, Ukrainian, Polish and Hungarian that serve well priced meals.
New York's music scene reflects the city's diversity and contemporary jazz is still in abundance. If you travel uptown or to the outer boroughs, you'll find Brazilian music, West Indian music, reggae and hip-hop, but if you stay downtown, indie rock will fill your ears. Classical violin played over skrawking German beats on the subway to experiments in mixology at your local bar are also in abundance.
Despite what the designers on any avenue would like you to believe, New York is not uptight about appearance. In the most expensive glitzy clubs however, appearances do matter, acolytes must adhere to the current look, with bouncers guarding the doors against the gauche, but if you just want to dance, there are plenty of casual places, especially the city's gay clubs which often offer more creative music and less hassle.
Contact Mark Felix for more insights into this topic.
Direct line: (0208) 679 - 3182
Other helpful information on New York can be found at: Travelrobe.
To book a cheap hotel in New York cheap flight in New York car hire in New York, vacation package, cruise, visit Travelrobe
Mark Felix
Travelrobe