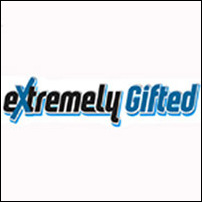 San Marcos, TX (PRWEB) August 3, 2006
eXtremely Gifted, Inc., the nation's newest online gift-wrapping service, formally launched its line of customized gift wrapping that serve as the icon of entertainment at your next gift giving occasion. The new gift giving service produces a line of gift card wraps that challenge any notion that America's hottest gift-choice has to come in a plain vanilla envelope. Who says gift wrap must be limited to a simple envelope, a glossy paper bag, or seasonal paper on a box? Beginning today, consumers can visit http://www.extremelygifted.com and choose from a variety of unique and often extreme gift wrap delivered to create a gift opening experience unlike anything before.
Offering the convenience of online shopping with an impressive selection of retail and restaurant gift cards , eXtremely Gifted has provided four product categories to design the perfect gifting experience. Extremus Maximus, the most challenging series, is where you'll find Block Party. It's a 35 pound concrete and cinder block. Can you hammer your way to the card in the center? Or there's The Escape Artist, where your job is to free your gift card, along with the illusionist trapped inside, before it's too late. It won't be easy; He's bound in rope, stuffed inside a sack, chained and locked, and nailed shut inside a wooden crate.
If you prefer brains over brawn, eXtremely Gifted offers their Extremely Puzzling series. The Safe Cracker hides your gift card in a reusable, metal bank safe. Only, there's no combination, just a stethoscope and a couple of clues. Good luck! In The Maze, the gift card is tantalizingly housed in a see-through cube, but you can't get at it unless you can solve the riddle. Like to keep the wrapping and reuse it for your next gift, then try the very collectable Gift Buddy who has locked a gift card in his chest and hidden the keys.
For the demure, eXtremely Gifted offers Extreme Presence and Extreme Expressions. Three dimensional baby cribs, birdhouses, burlap bags spilling with coffee beans and Chinese takeout containers are just a few of the unforgettable packages to pick from.
Although a little unconventional, eXtremely Gifted provides center stage entertainment for most personal and professional gifting occasions. Want to provide an employee with a reward, incentive or thank you? What better way to acknowledge their efforts than with a gift card. Trying to boost morale? eXtremely Gifted packaging provides a way to deliver that highly needed stress release and interactive fun typically amiss at company events.
eXtremely Gifted can also save you the worry of personal gifting failures. We are all tired of getting dad a necktie or sweater he'll never wear, or mom her seventeenth pair of fuzzy house slippers.
Gift cards are no longer the gift of the forgetful, late or lazy. The range of shopping freedom in services and products they offer is unmatched. Chances are your local coffee store; gas station and home-improvement store all offer them.
But, let's face it, gift cards can seem like an impersonal way to say, "I care." Not anymore. eXtremely Gifted solves that problem by turning the presentation of a simple gift card into an event - and an unforgettable one at that. And don't worry about the surprise - the unique gifts come presented in classic, signature blue wrap with black ribbon to charm.
To view our full line of gift card wraps, check out eXtremely Gifted today at http://www.extremelygifted.com or phone us at 888-409-GIFT.
###