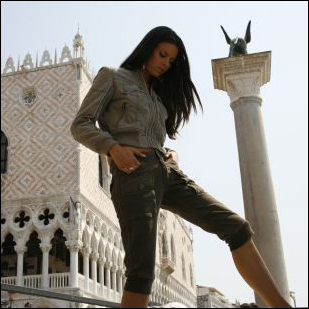 Venice, Italy (PRWEB) August 1, 2006
Fracomina introduces its new website and its latest collection, a Smart Girl's Guide to Italy. Coming to Venice is the trip of a lifetime for many women. Fracomina lets them get a head start, dreaming from their desktop, walking through the city's "calle" accompanied by a virtual guide wearing selections from next season's hottest fashion collection.
Be an explorer, not a tourist. Follow Fracomina's Smart Girl's Guide to Italy.
The guide offers detailed information on the best places in Venice, including:
-Arriving in Venice
-Ca'd'Oro on Canal Grande
-Dogana on Canal Grande
-San Marco Square
-Florian Cafe
-Palazzo Ducale
-The Bridge of Sighs
-Rialto Bridge
-Arsenale
-Gondola construction
Silvia Ceccon poses in the guide wearing some of Fracomia's most stunning creations for this season. Ceccon is one of Italy's most downloaded models and was Italy's 2003 representative for the title of Miss Universe. She is a fitting beauty to accompany a tour through the already gorgeous city of Venice.
The Fracomina Denim Collection is produced using the highest quality fabrics available on the market today. The style is sexy and elegant and suitable for any occasion. The collection is cut in a way to guarantee an elevated level of wearability.
Each clothing item in the Fracomina Fall-Winter collection 2006-07 is hand made. Each piece is unique. No two products look the same. Fracomina produces truly Venetian works of art.
Whereas many companies mass produce their clothing, Fracomina is proud is stand among Italy's finest traditions of hand crafted apparel. Because each item in the Fracomina collection receives unique attention, the clothing is quality controlled and adjusted to meet rigid standards in a way that is rarely seen anymore.
About Fracomina
Fracomina is an Italian fashion house that is design-led and quality-driven. With sales offices and long standing trading partnerships, the company supplies its top tier fashion brand, Fracomina, across Europe, Asia and the Americas.
Visit http://www.macliv.com to discover the new Fracomina Italian fashion collection. While at the site, enjoy a guided tour around Venice with Silvia Ceccon. The most beautiful and unique city in the world paired with the most beautiful Italian girl, all without having to move from your desk.
For further information, contact:
Enrico Talin
Macliv srl
Via lago di Lugano, 15
Schio (vi) 36015
+39 0445 576604
ITALY
# # #