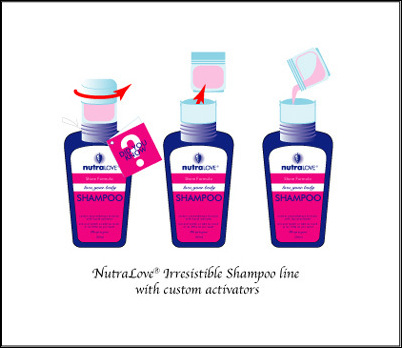 I have no idea but I think it's hard not to love Nutralove!
Las Vegas, NV (PRWEB) August 2, 2006
What connects the iPod, Jessica Simpson and shampoo? If you asked Hal Robb the inventor and holder of the patent pending on the Irresistible shampoo line manufactured by Nutralove it would be micro-customizing.
With the enthusiasm of a talk show host at the recent Cosmoprof trade fair in Las Vegas he says it is simple, "the beauty business and the shampoo business have missed what drives people to purchase. The iPod, Dell computer and Jessica Simpson with her new single all do micro- customizing; now with Nutralove you can do the same with shampoo."
The shampoo bottle is something to be seen. The topmost part of the bottle is clear and within this cap rests a small activator bottle. This small bottle is removed and then added to the main bottle. Other activators are sold separately so that the customer can mix and match activators. More shine with your moisture shampoo, no problem or how about sun protection with extra volume, again no problem. The shampoo comes in four varieties and is sold in the finest salons in the United States and in Asia.
When asked if Jessica Simpson uses the Nutralove custom shampoo Robb commented, "I have no idea but I think it's hard not to love Nutralove!"
###