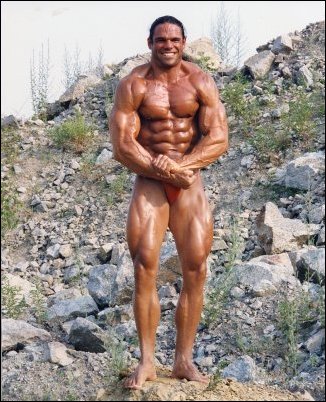 Spencer, MA (PRWEB) August 2, 2006
In his critically acclaimed book, "Burke's Law," A New Fitness Paradigm for the Mature Male (Trafford Publishing, 2006), Paul Burke, the author, writer and bodybuilder says that there are five basic elements or "Keys" to his new book. He believes that with every paradigm shift the concepts and elemental ideology must be laid out in steps so that the reader can absorb the fundamentals, which lead to the understanding and belief in this totally new philosophy presented.
One of these "Keys" is Perfecting Your Form. Perfected form is the absolute magic bullet in building the most amount of muscle, in the shortest amount of time.
Form must be first explained as such: Each and every active creature has a form; and that form either emanates from; or, as in the human being, can create a type of form from which everything physiologically structured around it is used as the catalysts to create the right form; the perfected form.
"For most people," Burke begins, "form is a rather simple, sometimes trivial word that comes from an exercise book, or out of a trainers' mouth. Those who take weight lifting form (for the purposes of bodybuilding) to a level as high as those masters of the artistic paintings from the Renaissance period; or the particularly difficult form from those who catch a football in a highly specialized way so that only, he, the intended receiver, can catch the pass; these are the people in which I aspire to when I train with weights."
"Everything begins and ends with the perfection of form. Form is always about doing the right exercise, the right way for your body parts, and keeping your mind isolated on the muscle at hand."
"Concentration is so deeply rooted in perfected form that it is as true to it as it true to concentrating on giving a speech in front of thousands of people. The more focused you are on perfecting your own form and then following through with the execution of that perfected form that you can't do anything but stimulate new fibers each time you train so long as if you have it down to a systemic and kinetic motion of art and science. The barbell or dumbbell should be an extension of whatever limb it is being used with. The more that a weight feels comfortable in your hands and the more you perfect your form, the more ease in which you can execute, concentrate and bring out the wonders that are waiting to blossom from within."
What separates Burke from many of his peers and contemporaries while explaining form is that he challenges each person to find their own form, their own special way of doing exercises that are suited perfectly to the lengths and girths of their various bones and muscle fiber, joints and muscular-skeletal structure.
"Finding your own leverage advantageous form is the most difficult part of body building," Burke admits. "Because here is where one decides what exercise is within the realm of your individual muscle groups. Not only must each and every exercise be made by you to be the right one, but to the observer, the actual exercise itself may not seem so special; however, after a closer look, this person watching sees that not only is there perfect fluidity in the repetitions, but there is also a particular ease and suitable feeling of reaching muscle failure that, you, the exerciser, is emitting based on the creative perfection of the movement that you have created for your individual muscle group, each and everyone in this artistic way. For instance," Burke exclaims, "I do my dumbbell bench presses lying on the floor because that is the perfect range of motion for my long and thick arms. This is what perfected form is; it's about applying kinetic logic and creative means to an end."
"Therefore, the very nature of the standard rules that define the range of motion and the already thought-out designated terms and forms of where the arm should be at the end of the negative part of the repetition, or where the seat should be raised when trying to reach the Pectoral Minor and all of these pre-conceived "rules" set into motion from The Weiders, to everyone on down through the second half of the 20th century; these are the very rules that must be broken and customized for your own muscular skeletal structure.
"That is the key to finding your own perfected form, because much like your fingerprints, your arms and legs, you spine and your rib-cage, your entire muscular-skeletal system is unique to you. One cannot," Burke says with a passion, "fully reach their genetic muscular potential until they find their artistic way, their logical way; their kinetic creative way: Their perfected way; whether it be foot-spacing, hand spacing, and/or any of all of the multitude of corrected articulations that will finally bring an at-ease feeling when the exercise is perfect for you and perhaps for you only—when you are in such control that you make it look effortless and yet inside your individual muscles are ready to burst, that is when you have found your perfected form.
"Therefore, there is form and then there is; your perfected form for each exercise. The key to reaching MMS (Maximum Muscle Stimulation) is to perfect your form and go at the set as if it where "your last day on life"—then you will reach for the stars. Then you will have become a star."
For more information, or to purchase the book, Burke's Law; go to: http://www.Trafford.com , http://www.Amazon.com, or there is a special reduced rate on the book's price for those who read IronMan Magazine. (A review of the book is in September's Issue of IronMan). For this reduced rate, go to: http://www.IronmanMagazine.com ; and then click on "Books" and "Training for Men." This is the only place that is selling the book at a discount. IronMan is one of the world's oldest and best bodybuilding magazines.
You can contact Paul Burke at Paulburkefitness.com.
###