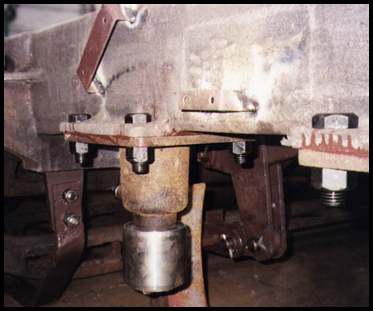 Madison Heights, MI (PRWEB) August 1, 2006
Whether the challenge is getting a bearing adapter to reliably withstand tremendous force in a U.S. locomotive bogie frame, retrofitting Chinese track to handle a doubling of train speed, or cutting maintenance costs in freight cars, unique self locking threaded fasteners are proving crucial in a variety of applications.
Traditional fasteners concentrate the load in the first few threads and are prone to loosening over time under the tremendous stress and vibration of railway conditions, potentially leading to serious consequences. Fortunately, a unique thread locking form from Spiralock is helping domestic and international railway manufacturers combat loading and vibration for increased safety and reliability, while minimizing thread loosening, assembly, maintenance, and service costs. The growing number of applications range from freight car center plates to track ties and "maglev," or magnetically levitated train station frames.
Perhaps the most innovative uses of the unique self locking threaded fasteners, however, are occurring in China. In an effort to modernize its transportation system on a par with its place in the global economy, China mandated increasing passenger railcar speed from less than 100 kilometers per hour to 200 kilometers per hour. To accomplish this national priority, China began renovating its existing railroad tracks and railcars.
Because existing Chinese railroad tracks contained gaps between each track piece, which slowed railcar speed, the solution was to connect the track seamlessly with metal plates and fasteners. These self locking threaded fasteners, however, not only have to withstand the stress and vibration of high speed Chinese trains, but also temperature differences of up to 110º C due to exposed summer and winter weather.
Traditional methods of preventing joint loosening such as prevailing torque nuts, nylon rings, deformed threads, adhesives, and even rivets simply don't measure up in the high shock, load, and vibration railway environment, especially when ongoing resistance to the thermal expansion and contraction of weather extremes is necessary.
Madison Heights, Mich.-based Spiralock Corp. offers an alternative thread locking form designed to address fastener loosening and stripping under high load and vibration. The Spiralock self locking fasteners are designed with a 30º "wedge" ramp cut at the root of the female thread. Under clamp load, the crests of the threads on any standard male bolt are drawn tightly against the wedge ramp. This not only eliminates sideways motion that causes vibrational loosening but also distributes the threaded joint's load throughout all engaged threads, a claim supported by a research study conducted by the Massachusetts Institute of Technology.
In China Spiralock self locking fasteners were successfully implemented after a few hundred kilometers of track were renovated using rivets. Because the rivets couldn't be re-tightened as necessary, the track failed.
Now, the Spiralock self locking threaded fasteners have been adopted as a Chinese national standard and about 3,000 kilometers of track has been laid using the fasteners as well as another 1,400 kilometers in a mountainous Tibet railway.
For all new and refurbished bogie applications in China, Spiralock taps or self locking threaded fasteners are used. The self locking fasteners are used in high-speed railcar brakes, and are finding their way into railway construction machinery, which face similar fastener loosening challenges due to severe vibration.
Spiralock Corporation
Kate Turowska
KTurowska @ spiralock.com
Phone:(248) 543-7800
Fax:(248) 543-1403
###