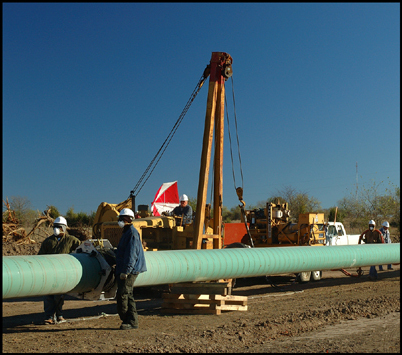 The probe-type analyzer cells are all based on the same technology. They may perform well in lean streams, but with wet gas, they can be troublesome. We've had to change our cells once a month.
San Dimas, CA (PRWEB) August 2, 2006
The costly dilemma of getting consistently accurate readings on wet gas through conventional sensors has become a thing of the past with many pipeline operators, producers and treatment facilities who have seen the light on a new technology -- the laser-based moisture analyzer.
Unaffected by the contaminants in natural gas streams, especially wet ones, the laser-based natural gas analyzer offers producers and service companies a precision alternative to the problems of inaccurate and slow measurements that results in problematic and expensive sensor maintenance and too often leads to excessive treatment costs or disastrous shut-ins.
"We were unhappy with the traditional sensors because they gave us problems with rich gas," says Del Tibbetts, Measurement Specialist with the Lafayette, La. operation of Crosstex Energy Services, a midstream energy services company. "The probe-type analyzer cells are all based on the same technology. They may perform well in lean streams, but with wet gas, they can be troublesome. We've had to change our cells once a month."
The replacement of sensor probes, amounting to hundreds of dollars a month in hardware and maintenance costs, is almost incidental when compared to the costs and other consequences of shut-ins or having to provide unexpected treatments due to inaccurate readings. If a producer with faulty dehydration equipment inadvertently sends millions of cubic feet of wet gas into a pipeline system, the costs and logistical problems of handling the gas are considerable, but that is often not the end of the problem. In the meantime there may be delays in supplying customers.
Worse yet, there could be the delivery of wet gas to the utility or industrial end user, resulting in expensive litigation based on broken contracts.
In May 2006 Tibbetts' measurement group bought the newest in moisture analyzer technology from SpectraSensors (San Dimas, Calif.), the company who developed the laser-based technology. "I am very impressed by the laser absorption principle," he says. "There is no maintenance to speak of, plus there is not wet-up or dry-down time. And the readings are instantaneous."
Using a "tunable-diode" laser-based technology, the SpectraSensors natural gas analyzer accurately monitors moisture content by precisely measuring the absorbance of light by moisture molecules, thereby measuring the exact amount of water (or carbon dioxide). There are no chemical conversions involved, and no natural gas sensor contact with the sample gas. This eliminates "coating" problems, erratic measurements, and exceeded tariffs.
Although the laser-based moisture analyzer technology is somewhat more expensive than the conventional gas sensors, Tibbetts as well as many other measurement specialists, feel that the cost may be overcome very quickly, possibly with the prevention of a single incident.
Crosstex Energy, L.P., a midstream natural gas company headquartered in Dallas, operates over 5,000 miles of pipeline, 12 processing plants, four fractionators, and approximately 150 natural gas amine treating plants and 22 dew point control plants.
Crosstex Energy, Inc. (NASDAQ: XTXI) owns the two percent general partner interest, a 42 percent limited partner interest, and the incentive distribution rights of Crosstex Energy, L.P.
Additional information about the Crosstex companies can be found at http://www.crosstexenergy.com.
For More Information Contact: George M. Balogh, CEO Tel: (909) 542-0394 x237 Fax: 909-542-0402,
SpectraSensors, Inc. 972 North Amelia Avenue, San Dimas, CA 91773, http://www.spectrasensors.com.
###